The Essential Wonder Woman Encyclopedia
By Leroy Douresseaux
April 28, 2010 - 10:10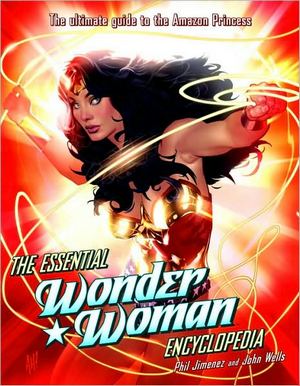 The Essential Wonder Woman Encyclopedia cover image courtesy of barnesandnoble.com. Art by Adam Hughes
Fans of DC Comics' beloved character, Wonder Woman, can dive into the new book, The Essential Wonder Woman Encyclopedia. Published by Ballantine Books/Del Rey (in conjunction with DC Comics) this Wonder Woman book is similar to The Essential Batman Encyclopedia released two years ago just before the release of Christopher Nolan's The Dark Knight film.
Written by former Wonder Woman comic book writer/artist, Phil Jimenez, and DC Comics historian, John Wells, The Essential Wonder Woman Encyclopedia is intended to be a comprehensive guide to the world of Wonder Woman. The book covers the character's origins and provides entries detailing her evolution 69 years. There are biographical entries of every major character in Wonder Woman's universe, from allies and friends like Donna Troy, Wonder Girl, Etta Candy, and Steve Trevor to adversaries like The Cheetah, Ares, and Villainy, Incorporated.
Like The Essential Batman Encyclopedia, The Essential Wonder Woman Encyclopedia is an expansion of an earlier work by author, Michael Fleisher, in this instance, The Encyclopedia of Comic Book Heroes Volume Two: Wonder Woman (originally published by Collier Books in 1976 and brought back to print by DC Comics in a facsimile edition in 2007).
The Essential Wonder Woman Encyclopedia is for longtime fans of Wonder Woman, but it is also for new fans who want to invest themselves in the Amazing Amazon. The gripe that I had with the Batman book is the same one I have with this book. All the art included here is printed without artist credit, and in the case of details, without information on the comic book from which the art was taken.
Otherwise, no one who loves Wonder Woman should be without The Essential Wonder Woman Encyclopedia.

For more of me, visit www.negromancer.com
Last Updated: August 31, 2023 - 08:12