Wolverine: First Class #3
By Leroy Douresseaux
May 24, 2009 - 09:59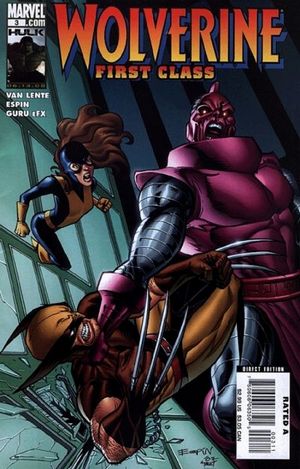 Wolverine First Class #3 cover image
The Last Knights of Wundagore, Part One
Like X-Men: First Class, Wolverine: First Class is a young readers or 'tween friendly X-Men comic book title set in the distant past of X-Men continuity. It is essentially a flashback comic book. Wolverine: First Class likely takes place after the events first depicted in Uncanny X-Men #143, which was published in late 1980 or early 1981. Wolverine: First Class teams Wolverine/Logan with what was then the newest student at the Xavier School for Gifted Youngsters and the newest member of the X-Men, Kitty Pryde.
In Wolverine: First Class #3, Wolverine and Kitty hop the Blackbird to Wundagore, as part of a larger search for the whereabouts of Magneto. Wundagore is a mountain in the Eastern European nation of Transia, where the High Evolutionary created his evolved, humanoid-animal race he called the New Men. At the request of Lady Bova (a cow woman), Wolverine investigates the recent disappearances of New Men villagers, believing that Magneto is the culprit.
This is another satisfying issue of Wolverine: First Class, although this is the series' first two-part story after issues #1 and #2 were self-contained stories. Series writer Fred Van Lente continues to script highly enjoyable stories, and he is sort of like classic X-Men Chris Claremont, but without the weighty exposition, occasionally cumbersome dialogue, and soap opera melodrama. Basically, Van Lente gives readers a lite version of Chris Claremont/John Byrne-era X-Men, with plots and stories that "all ages" can grasp.
The art by Salva Espin is good (although I wish Espin's inking provided the texture and feathering rather than the computer coloring). Espin is a good, but not great storyteller, but he's a wonder at drawing action scenes.
B+
Last Updated: September 6, 2021 - 08:15