Tyler Perry's Why Did I Get Married?
By Leroy Douresseaux
February 28, 2008 - 09:17
Why Did I Get Married? (2007)
Starring: Tyler Perry, Janet Jackson, Jill Scott, Sharon Leal, Malik Yoba, Richard T. Jones, Tasha Smith, Michael Jai White, Denise Boutte, Lamman Tucker, Keesha Sharp, and Kaira Whitehead
DIRECTOR: Tyler Perry
WRITER: Tyler Perry (based upon his play)
PRODUCERS: Tyler Perry and Reuben Cannon
GENRES: Drama, Comedy, Romance
RATING: MPAA – PG-13 for mature thematic material, sexual references, and language
DISTRIBUTION: Lionsgate
Why Did I Get Married? is the fourth Tyler Perry film in a little over two-and half years and Perry's third directorial effort. Perry's tried and true formula of inspiration, friendship, prayer, and God is evident in every moment of Why Did I Get Married?, and Perry's continues to improve as a filmmaker.
Eight married college friends reunite for their annual retreat to an exotic locale. This year the retreat is a beautiful Lake Leland home in the snowy mountains of Colorado. Best-selling author and popular psychologist, Patricia (Janet Jackson), and her successful architect husband, Gavin (Malik Yoba), share a tragedy that may tear their marriage apart if the two ever decide to be open about it. Rising attorney Dianne (Sharon Leal) is career driven, but her supportive husband, Terry (Tyler Perry), is fed-up that his marriage is sexless and that the couple has only one child. Angela (Tasha Smith) and Marcus (Michael Jai White) argue all the time. The final couple is Shelia (Jill Scott), a sweet woman troubled by body-image issues because of she is way overweight. Her weight issues are exacerbated by her emotionally abusive husband, Mike (Richard T. Jones), who has actually brought his barely-secret mistress, Trina (Denise Boutte), on the retreat.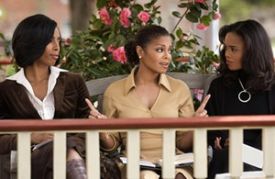 Janet Jackson (center) sets Tasha Smith (left) and Sharon Leal (right) straight.
The friends expect fun and relaxation on their retreat, but when the secrets and lies come pouring out, friendships and marriages seem broken beyond repair. Then, Sheriff Troy (Lamman Tucker) comes to the rescue.
Tyler Perry's "Black gospel theatre" stage plays are loud, raucous, and preachy, and the ones that Perry has adapted to film retain much of their spell-the-message-in-capital-letters charm. Not all of the acting is good Janet Jackson as Patricia and Sharon Leal as Dianne love to act it out loudly and, thus, are a bit too over the top. Still, Why Did I Get Married? works. You'll find yourself pulling oh-so hard for the downtrodden and mistreated (especially Shelia), and loving it when the villains get their comeuppance (especially Mike). There's plenty of reason to call up giant belly laughs or even howl with laughter (thanks to the delightful scene-stealing Tasha Smith as Angela).
The message here, as it always is in Perry's work, is believe in yourself and never believe that God has abandoned you. Well, then, thank God for Tyler Perry – for making fine, entertaining films like Why Did I Get Married? with this simply, but too true message.
A
Last Updated: August 31, 2023 - 08:12