We Were There: Volume 16 manga review
By Leroy Douresseaux
May 3, 2013 - 08:45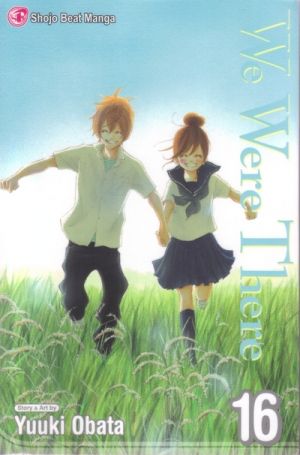 We Were There Volume 16 cover image
Rated "T+" for "Older Teen"
We Were There is the story of Nanami "Nana" Takahashi and Motoharu "Moto" Yano. Nana was the new girl in school. Yano was a sly boy with carefree ways. Although she tried not to fall in love with Yano, Nana did. Then, she discovered that Yano was grieving the death of another girl with the same first name, Nanami Yamamoto. Yano disappeared, but Nana found him in Tokyo, living with his dead girlfriend's sister, Yuri.
With We Were There, Vol. 16 (Chapter 65 to Final Chapter), the series comes to an end. Masafumi Takeuchi, who once asked Nana to marry him, confronts Yano about the way he acts, especially regarding Nana. Akiko Sengenji, a co-worker, also has tough love for Nana about her relationship with Yano, but is it to encourage or discourage? A typhoon, a temporary assignment as a manga editor, a business trip, an accident, and a wedding: they all lead to a final resolution concerning Nana and Yano.
THE LOWDOWN: Although I resisted the series because of its often downbeat tone, the We Were There manga proved to be a gripping read. Like life and love, it is sweet, sour, boring, exciting, bittersweet, and many things that are difficult to put into words.
We Were There Volume 16 is also dialogue-heavy. Creator Yuuki Obata often tells the story in big panels, splash pages, half-splashes, and double-page spreads. In this volume, Obata uses numerous small panels, dotted across some pages and dominating others. Her characters have a lot to say, and it's worth reading. That makes the ending to the love story and the series seem like it's the right thing and the right way.
POSSIBLE AUDIENCE: Shojo readers looking for romance and life drama will find it in Shojo Beat's We Were There.
Rating: A- /10
Last Updated: August 31, 2023 - 08:12