We Were There: Volume 15 manga review
By Leroy Douresseaux
Nov 5, 2012 - 13:17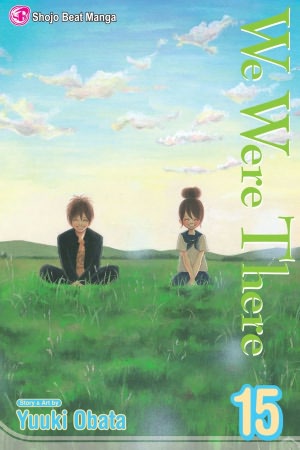 We Were There Volume 15 cover image is courtesy of barnesandnoble.com.
Rated "T+" for "Older Teen"
Nanami "Nana" Takahashi, the new girl in school, met Motoharu Yano, a sly boy with carefree ways. Although she tried not to fall in love with Yano, she did. Then, she discovered that Yano was grieving the death of another girl with the same first name, Nanami Yamamoto. Yano disappeared, but Nana found him in Tokyo, living with his dead girlfriend's sister, Yuri.
In We Were There, Vol. 15, Nana and Yano's friends make the hard push to get them back together. Masafumi Takeuchi, who recently asked Nana to marry him (and threw the engagement ring into the sea when she declined), goes old school on Yano… so to speak. The friends reminisce about their school days. Meanwhile, Akiko Sengenji, an old classmate of Yano's from Tokyo and a current coworker of Nana's, notices that Nana is starting to drink a lot. She confronts Yano and cuts deep.
THE LOWDOWN: I usually forget about it between readings, but recently my mind had been on the We Were There manga. Still, when I got a courtesy copy of Volume 15 for review from VIZ Media, I didn't know what to expect of it. Vol. 15 is the second-to-last of the series, and I wonder if Volume 16 can top this one.
We Were There is part of the "Shojo Beat" line of manga, and like the best shojo titles, it stands out because it is not like others. A winner of the prestigious Shogakukan Manga Award, this series can be viewed as a high school romantic drama, and that is what it is. However, creator Yuuki Obata plumbs the depths of her characters fondest wishes and hopes and deepest fears and longings without leaving the characters naked before us. She makes us work to discover what is behind the beautiful longing eyes which is seemingly her hallmark in this series. It's shojo with a touch of modern fiction.
Hopefully, We Were There will long remain in print so that readers will continue to discover it.
POSSIBLE AUDIENCE: Shojo readers looking for romance and life drama will find it in Shojo Beat's We Were There.
Rating: A- /10
Last Updated: Dec 19, 2017 - 22:52