World of Warcraft: The Essential Sunwell Collection
By Leroy Douresseaux
November 10, 2010 - 09:41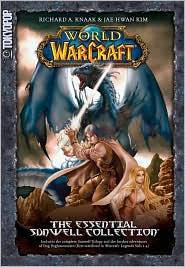 World of Warcraft: The Essential Sunwell Collection cover image
Action/Fantasy; Rated "T" for "Teen-Age 13+"
Warcraft: The Sunwell Trilogy was an OEL manga or comic book series based on the Warcraft universe. Warcraft is video game franchise created by Blizzard Entertainment. Written by bestselling author, Richard A. Knaak, and drawn by Korean comic book artist, Jae-Hwan Kim, The Sunwell Trilogy was comprised by three graphic novels: Dragon Hunt, Shadows of Ice, and Ghostlands.
Sunwell is set on the war-ravaged world of Azeroth and focuses on several characters, but two in particular. There is Kalecgoz, a young blue dragon who can also transform himself into a half-elf/half-human, when he goes by the name "Kalec." Wounded by hunters, Kalec meets and receives help from a human girl named Anveena Teague. Kalec and Anveena join paladin, Jorad Mace, and Tyrygosa, a headstrong, female blue dragon, to stop an evil high elf named Dar'Khan. Dar'Khan is obsessed with finding the Sunwell, the source of elven magic, which he plans to absorb so he can rule Azeroth.
World of Warcraft: The Essential Sunwell Trilogy collects all three volumes of The Sunwell Trilogy. Knaak and Kim also created four short stories featuring Trag Highmountain, a supporting character and ally of Kalec and Aveena. These stories, which appeared in the Warcraft: Legends series, are included in The Essential Sunwell Trilogy. The book closes with a preview of World of Warcraft: Shadow Wing, Knaak and Kim's latest Warcraft manga.
THE LOWDOWN: It is not an exaggeration to compare Richard Knaak's Warcraft comic books to the high fantasy of Tolkien or to the sword and sorcery of Robert E. Howard. Sometimes, Knaak's dialogue in these comics tends to be a bit melodramatic, but these stories are so dramatic and powerful. Knaak prepares each moment of the story to make the reader want to keep reading, to race through the narrative in order to experience the action and adventure as soon as possible.
As a comic book artist and graphic storyteller, Jae-Hwan Kim is all-around excellent – from storytelling and composition to draftsmanship and design. I've been reading Kim's comics for about five years, and his work certainly does not lack drama and power. So he is the perfect artist to take Knaak's brawny fantasy stories and turn them into equally strong comics.
POSSIBLE AUDIENCE: Readers looking for high fantasy comics or Warcraft comic books won't mind spending extra money for World of Warcraft: The Essential Sunwell Trilogy.
A-
Last Updated: August 31, 2023 - 08:12