Voice Over: Volume 8 manga review
By Leroy Douresseaux
December 9, 2014 - 13:26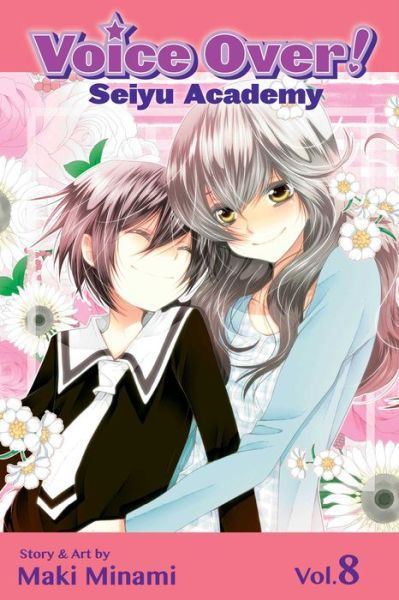 Voice Over Volume 8 cover image is courtesy of barnesandnoble.com.
Follow me on
Twitter
.
Rated "T" for "Teen"
Hime Kino
dreams of becoming a voice actor. The 15-year old also wants to be like her hero, voice-acting legend
Sakura Aoyama
, the former star of the anime, Magic Warriors: Lovely ♥ Blazers. Hime is accepted into the "Voice Acting Department" at
Holly Academy High School
, where she hopes to learn how to be a voice actress with the cute voice known as "the princess type." However, Hime's gruff voice earns her the nickname, "Gorilla Princess," but she isn't about to give up.
Voice Over! Seiyu Academy

, Vol. 8
(Chapters 41 to 46) opens with the resolution of a subplot involving Hime's classmate,
Tsukino Todoroki
. Tsukino was chosen for the lead role in a school anime voice over project that forces her to recall awful school experiences from the past. Now, Tsukino has to overcome or look dumb.
Senri Kudo
, the voice actor idol and son of Sakura Aoyama, wants to do something for his new pal, Shiro (who is really Hime disguised as a boy). He wants to prepare Shiro's favorite dish,
omelet rice
, for him, but he is really bad at cooking. Plus, a visit from Senri's father,
Takanari Kudo
, brings back memories of Senri's complicated relationship with his mother.
[This volume contains bonus manga.]
THE LOWDOWN:
As I have written before, I was not sure that I would have a long-term interest in the
Voice Over! Seiyu Academy
manga. It was Vol. 7 that piqued my interest in the series, as I thoroughly enjoyed that volume's focus on the character, Tsukino Todoroki.
Voice Over! Seiyu Academy Volume 8
is another character-centric issue, as half this graphic novel focuses on Senri Kudo, on the origin of his parents' relationship, and on Senri's dysfunctional upbringing – particularly highlighting his mother, Sakura Aoyama. Of course, series star Hime practically worships Aoyama. It is a familiar story of a media celebrity who sacrifices a child for his or her career. Creator
Maki Minami
fashions a troubling mother-son relationship – worrisome enough to make you forget that
Voice Over! Seiyu Academy
is a high school shojo romance.
POSSIBLE AUDIENCE:
Fans of high school shojo manga will want to try the Shojo Beat title,
Voice Over! Seiyu Academy
.
Rating: A- /10
Last Updated: May 19, 2020 - 12:25