Voice Over: Volume 7 manga review
By Leroy Douresseaux
October 24, 2014 - 15:04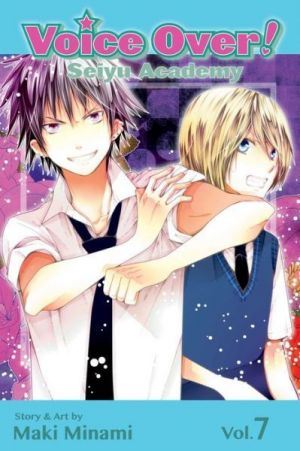 Voice Over: Seiyu Academy Volume 7 cover image is courtesy of barnesandnoble.com.
Follow me on
Twitter
.
Rated "T" for "Teen"
Fifteen-year-old
Hime Kino
dreams of becoming a voice actor. She also wants to be like her hero, voice-acting legend Sakura Aoyama, the former star of the anime, Magic Warriors: Lovely ♥ Blazers. Hime is accepted into the "Voice Acting Department" at
Holly Academy High School
, where she hopes to learn how to be a voice actress with the cute voice known as "the princess type." However, Hime's gruff voice earns her the nickname, "Gorilla Princess," but she isn't about to give up.
Haruka Yamada (a.k.a. "Yamada P"), Hime's agent and manager, has filled her summer with lots of voice acting jobs and one plain old job. As
Voice Over! Seiyu Academy

, Vol. 7
(Chapters 35 to 40) opens, Hime is working at a theme park, and she has to wear a big furry costume. She is the big cuddly cat, Shiro, of the anime, "The Four Gods Squad: Beast Renjai." Now, she is about to inadvertently make the job bigger than anyone thought it could be.
Recently, a voice acting job caused Hime trauma related to Senri Kudo, the voice actor idol and son of Sakura Aoyama. Now, she finds herself trapped with Kudo, but does he even know she is around? Plus, Hime's classmate, Tsukino Todoroki, gets a job offer that causes her stress and forces her to recall awful school experiences from the past.
[This volume contains bonus manga.]
THE LOWDOWN:
For a long time, I was not sure that I would have a long-term interest in the Voice Over! Seiyu Academy manga.
Voice Over! Seiyu Academy Volume 7
marks me as interested in the series as I've ever been. I thoroughly enjoyed the Tsukino Todoroki story.
Perhaps, my interest in animated film and television and also anime makes me curious about the world of voice acting, even in a manga that presents a fictional depiction of the world of voice acting for anime. I enjoy Voice Over when it focuses on the work of voice acting more than when it focuses on romance, so I like this series... for now.
POSSIBLE AUDIENCE:
Fans of high school shojo manga will want to try the Shojo Beat title,
Voice Over! Seiyu Academy
.
Rating: B+ /10
Last Updated: August 31, 2023 - 08:12