Voice Over: Seiyu Academy Volume 3 manga review
By Leroy Douresseaux
February 8, 2014 - 09:41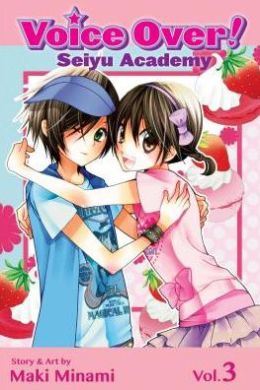 Voice Over: Seiyu Academy Volume 3 cover image is courtesy of barnesandnoble.com.
Rated "T" for "Teen"
Hime Kino dreams of becoming a voice actor. The 15-year-old wants to be like her hero, voice acting legend Sakura Aoyama, the former star of the anime, Magic Warriors: Lovely ♥ Blazers. She is accepted into the "Voice Acting Department" at Holly Academy High School. Kino wants to be a voice actress with a cute voice – the princess type. However, Hime's gruff voice earns her the nickname, "Gorilla Princess," but she isn't about to give up.
As Voice Over! Seiyu Academy, Vol. 3 (Chapters 12 to 17) opens, Hime is ready to begin her new life… as a boy! Hime finally got her big break in voice acting from Haruka Yamada (a.k.a. "Yamada P"), the producer behind the popular idol group, AQUA. Yamada, however, demands that Hime move out of her house and pretend to be a boy named Shiro.
He also insists that the way to become a first-rate voice actress is to have better control of her "prince voice." Hime is having trouble doing the voice on a consistent basis, so Yamada sends her on a training retreat. Much to her surprise, Shuma Kawai and Mizuki Haruyama of Aqua are also there. Can they help her? Do they want to help her?
THE LOWDOWN: I was not sure that I could continue to be interested in the Voice Over! Seiyu Academy manga. However, Voice Over! Seiyu Academy Volume 3 features two storylines that interested me. One of them reveals a different side to Hime's rival, Senri Kudo, who also happens to be the son of Hime's idol, Sakura Aoyama.
The other story, which takes place at the retreat, takes an honest look at the good and bad of helping people in their professional endeavors. What if the person you are helping comes to depend upon you too much? What if that person really does not have the talent to succeed or even the fortitude to accept the harsh realities of a highly competitive field? Hopefully, series creator Maki Minami continues to focus on chase to succeed as much as she will on the high school romance.
POSSIBLE AUDIENCE: Fans of high school shojo manga will want to try the new Shojo Beat title, Voice Over! Seiyu Academy.
Rating: B+ /10
Last Updated: August 31, 2023 - 08:12