Voice Over! Seiyu Academy: Volume 2
By Leroy Douresseaux
December 8, 2013 - 15:48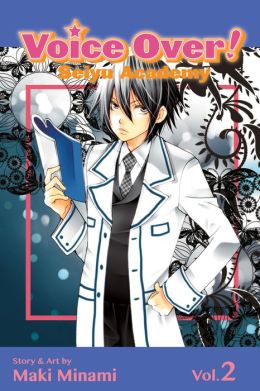 Voice Over! Seiyu Academy Volume 2 cover image is courtesy of barnesandnoble.com.
Rated "T" for "Teen"
Fifteen-year-old Hime Kino dreams of becoming a voice actor like her hero, voice acting legend Sakura Aoyama, the former star of the anime, Magic Warriors: Lovely ♥ Blazers. She is accepted into the "Voice Acting Department" at Holly Academy High School. Kino wants to be a voice actress with a cute voice – the princess type. However, Hime's gruff voice earns her the nickname, "Gorilla Princess," but she isn't about to give up.
Hime ended up in a quartet of failing first years called "the Stragglers," but this group earned praise during the "lunchtime broadcasts," when students can perform their own original voice acting works. As Voice Over! Seiyu Academy, Vol. 2 (Chapters 6 to 11) opens, Hime and the Stragglers prepare for their second lunchtime broadcast. They want to provide the voices for an original anime created by Ume Ichijo, a fellow first year student who is in "Visual Arts."
However, using Ume's anime comes with a cost. Hime has to help Ume find her prince, but finding the prince is easier than making the prince stay with Ume. Also, producer Haruka Yamada makes another surprising offer to Hime, but she needs her disinterested mother's permission to accept.
THE LOWDOWN: It is a toss up as to whether I will continue to be interested in the Voice Over! Seiyu Academy manga. The Ume Ichijo storyline dominates this volume, and I was half-bored with it.
However, when the series focuses on Hime's home life, Voice Over! Seiyu Academy becomes the kind of melodrama I would never expect it to be while reading the chapters set at Holly Academy. Another good subplot is Hime's career as directed by Haruka Yamada, producer and svengali. So more home life and more career building means that I will read more.
POSSIBLE AUDIENCE: Fans of high school shojo manga will want to try the new Shojo Beat title, Voice Over! Seiyu Academy.
Rating: B /10
Last Updated: May 19, 2020 - 12:25