Voice Over! Seiyu Academy: Volume 1 manga review
By Leroy Douresseaux
September 28, 2013 - 17:57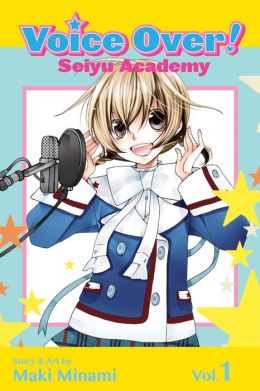 Voice Over! Seiyu Academy Volume 1 cover image is courtesy of barnesandnoble.com.
Rated "T" for "Teen"
Holly Academy High School offers general education, sports, acting, music, and visual arts like many other high schools. However, it is famous in the world of voice acting for its voice acting department. Fifteen-year-old Hime Kino is the newest student. This first year student's dream is to be a voice actress with a cute voice – the princess type. However, Hime's gruff voice earns her the ire of teachers and students alike, but she isn't about to give up.
As Voice Over! Seiyu Academy, Vol. 1 opens, Hime is spending her first day at Holly Academy. She recalls the moment that started her dream of being a voice actor. It was an encounter with voice acting legend, Sakura Aoyama, former star of the anime, Magic Warriors: Lovely ♥ Blazers. Aoyama's son, Senri Kudo, just happens to be a second year student at Holly Academy, but after her first encounter with the teen, Hime finds his attitude about more than a few things to be potty.
Her time in the Year One Voice Group quickly turns sour as she finds herself in the Voice Acting Department "stragglers," the failing students. But a school acting performance will change Hime's future... hopefully for the best.
THE LOWDOWN: As a narrative set at a school for voice actors, the Voice Over! Seiyu Academy manga seems to have a problem. In theory, it is a story that would work best as an audio drama or as a television series. A manga certainly does not come with sound, and audio would also be the best way to hear the characters' voices, especially Hime's.
Creator Maki Minami focuses not so much on voice, but on overall characters. All the characters in Voice Over! Seiyu Academy are familiar types, even stereotypes, from shojo manga. Minami gives each a twist, something surprising, shocking, or unusual about each character type that makes him or her interesting to the audience. In fact, that has made me very interested in Voice Over! Seiyu Academy. I like this manga and want more – shojo loving guy that I am.
POSSIBLE AUDIENCE: Fans of cutesy high school shojo manga will like this twist on that in the new Shojo Beat title, Voice Over! Seiyu Academy.
Rating: A- /10
Last Updated: May 19, 2020 - 12:25