VIZ Media to Publish "Boys over Flowers" Epilogue
By The Editor
Oct 9, 2009 - 7:41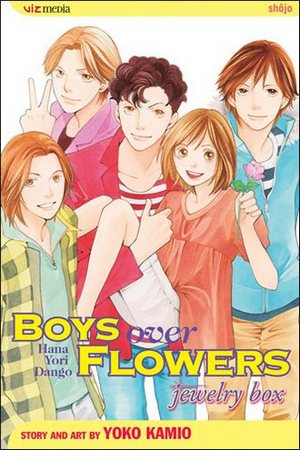 Boys over Flowers Jewelry Box cover image
VIZ MEDIA ANNOUNCES THE CAPTIVATING EPILOGUE TO BOYS OVER FLOWERS MANGA
Acclaimed Series that Helped Define the Shojo Manga Genre Concludes with a New Release that Contains Two Short Stories
VIZ Media, LLC (VIZ Media), one of the entertainment industry's most innovative and comprehensive publishing, animation and licensing companies, delights fans of shojo manga (graphic novels for girls) with the announcement of the upcoming release of BOYS OVER FLOWERS: JEWELRY BOX on October 13th. The new volume is rated 'T' for Teens and will carry an MSRP of $9.99 U.S. / $12.99 CAN.
BOYS OVER FLOWERS: JEWELRY BOX is a collection of two new short stories by Yoko Kamio, the creator of the acclaimed BOYS OVER FLOWERS series. The new epilogue takes place one year after the end of the original BOYS OVER FLOWERS story, which concluded with Volume 36. It also contains a section with some of the important events in the series that show the characters maturing, plus a special bonus strip!
"Yoko Kamio, one of the most beloved shojo manga creators of all time, just couldn't stay away from some of her favorite characters and we're proud to announce the publication of BOYS OVER FLOWERS: JEWELRY BOX," says Candice Uyloan, Product Marketing Director, VIZ Media "This volume serves as a fitting conclusion to a series that helped to establish the shojo manga genre in the U.S. and fans won't want to miss this chance to get reacquainted with main character Tsukushi."
Creator Yoko Kamio made her manga debut in 1986 with WAITING UNTIL 20 and her other notable manga series includes I REALLY REALLY LIKE YOU and MARY'S LAMB. Her seminal title BOYS OVER FLOWERS (published in the US by VIZ Media), followed the romantic and social dramas of a girl in high school, broke sales records selling over 35 million copies and went on to become the best-selling shojo manga in Japan. The series went on to win the 1996 Shogakukan Comic Award in the shojo category. BOYS OVER FLOWERS was also adapted into a successful animated series and live action film.
For more information on this title as well as other shojo titles from VIZ Media, please visit www.viz.com.
Last Updated: Jun 26, 2018 - 9:28