V For Vendetta
By Al Kratina
March 18, 2006 - 21:00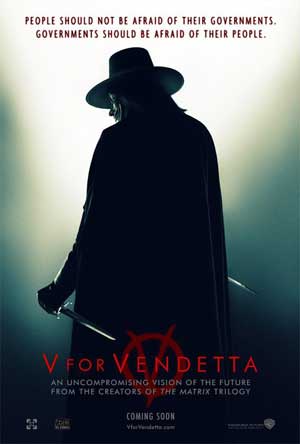 Aw, Raphael is all grown up. And murderous.
V For Vendetta
Genres: Sci-Fi / Action / Comic Book
Being one of the most respected writers in the history of comic-dom comes with certain privileges. If you're Alan Moore, it means you get to throw hissy fits over
Watchmen
buttons and
Miracleman
credits, grow a beard that could choke you in his sleep, and give up writing every few years to concentrate on 'chaos magick', which is a skill learned from taking acid and playing lots of
D & D
in high school. You also get to be notoriously displeased whenever your works are adapted, so much so that you may refuse to be associated with film versions.
Such is the case with
V For Vendetta
. Bitter from previous Hollywood experiences regarding
From Hell
and the abysmal
League Of Extraordinary Gentlemen
, Moore has been at odds with the makers of
V For Vendetta
, and on-screen the comic is credited only to artist David Lloyd and Vertigo comics. While I can understand his proprietary feelings, I would argue that change is a necessary part of adaptation, and while it rarely works out for the best, it's certainly preferable to just having the comic read aloud with the pages flipped for you. I'm looking at you,
Sin City
.
V for Vendetta
is far from a faithful adaptation of the original comic. Adapted for the screen and produced by the Wachowski brothers, there are countless alterations, both significant and merely cosmetic. But fans will be pleased to know that despite all the changes, the spirit of the comic remains unaltered, and the story is arguably just as relevant and important as when it first saw print in 1982.
V For Vendetta
takes place in a futuristic England, where a totalitarian government has taken control after a series of wars and plagues. Repressive and brutal, the police state finds itself under siege by a seemingly supernatural terrorist wearing a Guy Fawkes mask, who attacks the status quo through bombings and assassinations. Originally intended as a critique of what Moore saw as the evil potential of Margaret Thatcher's Conservative government, the themes of the comic have taken new meaning in relation to America's post-9/11 society. The film embraces this, giving equal weight to questions regarding the government's exploitation of fear, and the fuzzy distinction between terrorist and freedom fighter. The film's material is openly subversive, and serves as both an attack on increasingly conservative Western governments and a celebration of the right of free speech.
It also gives plenty of weight to a cheap, tacked-on love story, and tiresome fight scenes proving that
The Matrix
ruined action movies as surely as the Farrelly Brothers killed comedy. These are among the more ridiculous elements that have been inserted to try and tear college males away from March Madness on Sports Center and pump up opening bos office receipts. First-time director James McTeigue handles some of the material awkwardly, eliminating much of Moore artistry and poetry and pacing things a little too quickly. This is especially problematic in the film's first act, where the terrorist attacks begin too quickly for us to get a feel of the world we're supposed to want to see destroyed. That said, McTeigue does give the fascist society a sense of order and gloss that opposes Moore's nihilistic, dystopian vision, providing more of a sense as to why a culture would allow such a thing to happen, and his frequent use of television and news footage indicates he's aware well that this is a film and not a comic book, justifying the adaptation in form as well as function. As for the cast, they're all fairly capable, especially Stephen Rea, who despite looking tired and confused by not being in a Neil Jordan movie, manages to almost distract from Nathalie Portman's terrible British accent. Overall, though
V for Vendetta
is bound to upset purists and probably Alan Moore himself, it serves its purpose and delivers its message effectively, and entertainingly. The fact that that message is to blow up parliament may upset some, but at least someone's still allowed to say it.
Last Updated: January 24, 2022 - 11:00