Upper Deck Transforms Shaq into All-Star Vinyl
By The Editor
November 23, 2007 - 06:25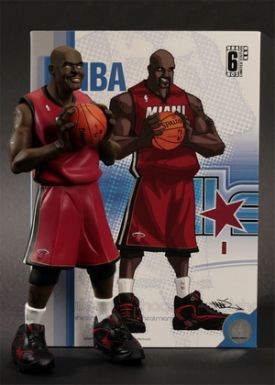 Shaq in Red Miami Heat uniform.
Upper Deck Goes Huge with the Release of The Big Aristotle in All-Star Vinyl Action Figure Form
Miami Heat Center Shaquille O'Neal is First Big Man to be Depicted in New Line of Figures
Sports collectible's company releases four versions of the Miami Heat star, based on 'stylized realism' found in comic book art
Something big is happening off the court in South Beach, Upper Deck is preparing to cause a commotion with an action figure of the Big Aristotle, Shaquille O'Neal, later this week. Upper Deck will release an All-Star Vinyl action figure of the Heats mammoth center on Friday, November 23 (9:25 AM PST) to Platinum Club members and to the general public on Monday, November 26 (9:25 AM PST).
The former LSU Tiger and Los Angeles Laker's vinyl figures will be available to collectors and fans alike in a white and black with red trimmed uniform version (numbered to 1000), a white with red trimmed home version (numbered to 500), an alternate red road uniform version (numbered to 500) and of course, a coveted black edition (numbered to 250) featuring gold team graphics on an all black figure. The sleek all black figures have become the most highly anticipated variants of the All-Star Vinyl line of collectibles due to its unique look and limited availability.
"Whether its O'Neal's ability to deliver a verbal jab, a big rebound or block an opponent's shot into the seventh row, Shag has always been a big game player," said Upper Deck's Dave Sanders, Brand Manager for the All-Star Vinyl Line. "We wanted to capture O'Neal's larger than life physical stature and his trademark smirk."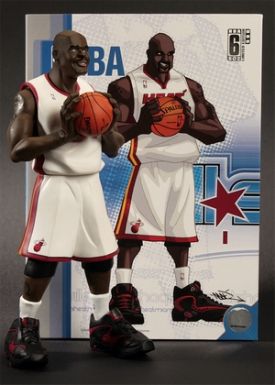 Shaq in White uni.
O'Neal has been a fixture in the NBA and was a member of the second U.S. National Basketball 'Dream Team' during the 1990's, and led the Los Angeles Lakers to three NBA titles from the 1999-2000 to 2001-2002 seasons. "Shaq is arguably the best big man of his generation and was a perfect choice to man the post for our All-Star Vinyl collection," added Sanders.
The new figures will run for $74.99, with the exception of the Black Edition, which is $99.99. Eager fans will be able to scoop up a dual pack featuring a black edition and a black on black version for $150.00. For more information on the All-Star Vinyl action figures, please visit www.allstarvinyl.com.
More on Upper Deck's All-Star Vinyl Action Figurines
At 12 inches and produced in the underground style of urban vinyl, Upper Deck's Shaquille O'Neal All-Star Vinyl action figure is a full inch taller than previous released figures and is a combination of art and realism not typically found in sports licensed products. Adds Sanders, "in this medium, our designers are able to have fun by adding or playing up on player attributes and subtleties that give life to these athletes, highlight their distinct features, playing style – design characteristics that make them highly unique in comparison to more traditional based sports figures. Keeping with the comic book theme, the high end packaging and artwork was created by well-known comic artist Jeremy Madl."
To offer more details on the All-Star Vinyl figures, Upper Deck has set up dedicated web site with a blog written by Sanders - allstarvinyl.com. It will also give consumers a first look at upcoming sports action figure launches throughout the year, giving insight into the athletes to be featured, as well as the artist and sculptor behind the piece.
Shaq in Black uni.
History of Urban Vinyl Collectibles
The trend of urban vinyl collectibles originated in Hong Kong and Japan, recently becoming popular in the United States. A sign of its popularity: at the annual Toy Fair, in 2006 the industry officially recognized this trend with its own exhibit hall titled "Urban Bazaar: Indie Art Toys."
Upper Deck is the first and only company to recognize the possibility of combining urban stylized figures with licensed sports leagues to create a heroic depiction of sports stars. Upper Deck has released figures of NFL, NHL, NBA, and MLB players.
Urban vinyl figures, or designer toys, are thought of as not just toys, but as pieces of art. Usually made of soft roto-cast PVC, referred to by collectors as "vinyl," many of the industry's product launches are held at gallery openings or release parties where the toys are displayed side-by-side with paintings and other types of art.
Last Updated: September 6, 2021 - 08:15