20th Century Boys: Volume 14
By Leroy Douresseaux
April 23, 2011 - 15:52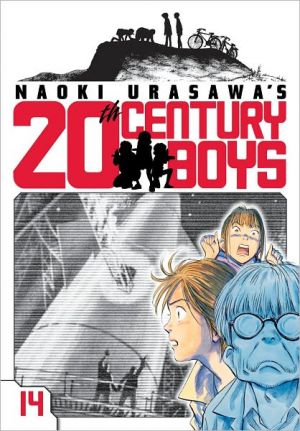 20th Century Boys Volume 14 cover image is courtesy of barnesandnoble.com.
Rated "T+" for "Older Teen"
Tokyo survived "Bloody New Year's Eve" on December 31, 2000, when the world was brought to the brink of destruction. By 2014, Neo Tokyo is a thriving, multiethnic metropolis that lives under the shadow of the worldwide cult known as the "Friends." Their leader, the "Friend," is celebrated as the man who saved the world on Bloody New Year's Eve. Now, the Friend is dead, but his grand scheme continues. Kanna Endo, the niece of that fated night's true hero, Kenji Endo, leads a group of people trying to stop a new Bloody New Year's Eve.
As Naoki Urasawa's 20th Century Boys, Vol. 14 (entitled A Boy and a Dream) begins, the world grieves over the death of their beloved Friend. Kanna and "Kenji's group," the childhood pals of Kenji Endo who have gathered to stop the Friends, make their move. The lax security resulting in the Friend's death will make it easy for Kanna and company to break into Friend Land, the bizarre amusement park and re-education camp. There, Kenji's pal, Yoshitsune, and Kanna's fellow high school student, Koizumi Kyoko, will reenter Virtual World where they will return to the summer of 1971, a pivotal time in the development of the Friend's plot.
THE LOWDOWN: A combination of speculative science fiction and conspiratorial thriller, 20th Century Boys is full of mystery and suspense. In this volume, however, the stench of death hangs over the narrative. Creator Naoki Urasawa has not been shy about making death and murder a part of 20th Century Boys (or any of his other manga, for that matter).
This time around, however, death and corpses are featured players, and the story often trades in the creepy and the macabre. Early in the book, the Friend's body lies in repose in a flower-filled coffin, which itself sits in a mound of flowers; that is macabre, but the face-wrap around his head is just downright creepy. Well, Urasawa is always adding another character, story, element, or thing that makes readers want to come back for more.
POSSIBLE AUDIENCE: Comic book readers looking for the best comics will want 20th Century Boys on their reading list.
A-
Last Updated: August 31, 2023 - 08:12