20th Century Boys: Volume 13
By Leroy Douresseaux
Feb 13, 2011 - 8:23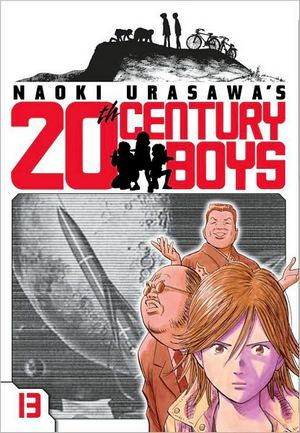 20th Century Boys Volume 13 cover image is courtesy of barnesandnoble.com.
Rated "A" for "All Ages"
Like the rest of the world, Tokyo survived "Bloody New Year's Eve" on December 31, 2000, when the world was brought to the brink of destruction. By 2014, Neo Tokyo is a thriving, multiethnic metropolis that lives under the shadow of the worldwide cult known as the "Friends." Their leader, the "Friend," is celebrated as the man who saved the world on Bloody New Year's Eve. Kanna Endo, the niece of that fated night's true hero, Kenji Endo, leads a group of people trying to stop a new Bloody New Year's Eve.
As Naoki Urasawa's 20th Century Boys, Vol. 13 (entitled Beginning of the End) begins, the news spreads: the Friend is dead! "Kenji's group" is comprised of the childhood pals of Kenji Endo who gathered to stop the Friends. Now, they are at a crossroads. What do they do next? Soon, they learn that the Friends' plot against humanity continues. Meanwhile, the activities of Kiriki, Kenji's elder sister and Kanna's mom, are revealed.
THE LOWDOWN: Of course, Naoki Urasawa can kill off his central antagonist (if he really is dead) and keep churning out non-stop suspense and thrills. Neither King Kong nor John Le Carré got nothing on him! Seriously, 20th Century Boys is, as I always describe it, a thriller with the smarts and the heat of the best summer pot boiler prose novels. That extra special element is that Urasawa can make even the most insignificant characters as intriguing as the most significant characters.
POSSIBLE AUDIENCE: Comic book readers looking for the best comics will want 20th Century Boys on their reading list.
A+
Last Updated: Jun 26, 2018 - 9:28