20th Century Boys: Volume 12
By Leroy Douresseaux
December 21, 2010 - 07:53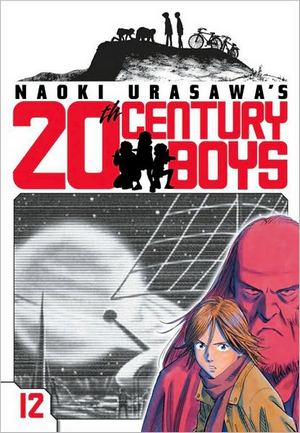 20th Century Boys Volume 12 cover image is courtesy of barnesandnoble.com.
Rated "T+" for "Older Teen"
December 31, 2000, Bloody New Year's Eve: the world was brought to the brink of destruction. 2014: Neo Tokyo is a thriving, multiethnic metropolis, but the city lives under the shadow of the worldwide cult known as the "Friends." Their leader, the "Friend," is celebrated as the man who saved the world the last day of the year 2000. Kanna Endo, the niece of Bloody New Year's Eve's true hero, Kenji Endo, leads a group of people trying to stop a new Bloody New Year's Eve.
In Naoki Urasawa's 20th Century Boys, Vol. 12 (entitled Friend's Face), Kenji's friends separately and in small groups begin to unravel the mystery of the Friend's identity. Meanwhile, Otcho (aka Shogun) and his fellow escaped inmate, Kakuta the manga artist, track down Dr. Yamane, a former colleague of Kanna's mother, Kiriko. Kanna struggles to clear away the fog of her memory as she tries to remember what her father looks like – her father who is the Friend.
THE LOWDOWN: Of course, 20th Century Boys remains a superb conspiracy and psychological thriller. It is certainly a fascinating character drama, but the cast seems to grow with each volume. I'm having a hard time keeping up with them, but this is one difficulty I love without reservation. 20th Century Boys is a taut mystery thriller that roils like the best summer pot boiler novel and is more exhilarating to read than many movie thrillers are to watch.
POSSIBLE AUDIENCE: Comic book readers looking for the best will want 20th Century Boys.
A+
Last Updated: August 31, 2023 - 08:12