20th Century Boys: Volume 11
By Leroy Douresseaux
Oct 7, 2010 - 7:37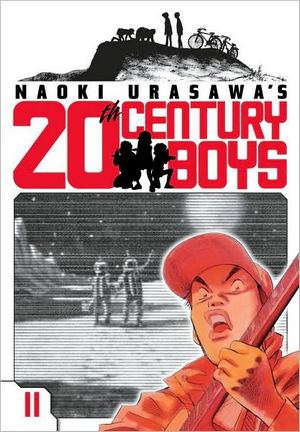 20th Century Boys Volume 11 cover image is courtesy of barnesandnoble.com.
Rated "T+" for "Older Teen"
December 31, 2000, Bloody New Year's Eve: the world was brought to the brink of destruction. 2014: Neo Tokyo is a thriving, multiethnic metropolis, but the city lives under the shadow of the worldwide cult known as the "Friends". Kanna Endo, the niece of Bloody New Year's Eve's true hero, Kenji Endo, lives and works in the city's Kabuki-cho neighborhood. Now, she has discovered a Friends' plot to assassinate the Pope.
In Naoki Urasawa's 20th Century Boys, Vol. 11 (entitled List of Ingredients), the remnants of Kenji's circle of friends regroup. The results of Mon-chan's investigation and his ultimate fate are revealed. The Dream Navigators move to obliterate threats to the Friend, the leaders of the Friends; they wish to keep his identity secret. Kanna meets her mother… in a manner. The rumor of another New Year's Eve plot simmers.
THE LOWDOWN: A superb conspiracy and psychological thriller, 20th Century Boys is also a fascinating character drama that immerses readers in its characters' lives. No interpersonal conflict or motivation is minor, and supporting characters are as interesting as the leads. When a character exits the stage (sometimes because of death), it is sad because every subplot in 20th Century Boys deserves an encore.
POSSIBLE AUDIENCE: Comic book readers looking for the best will want 20th Century Boys.
A
Last Updated: Jun 26, 2018 - 9:28