20th Century Boys: Volume 10
By Leroy Douresseaux
Aug 11, 2010 - 12:35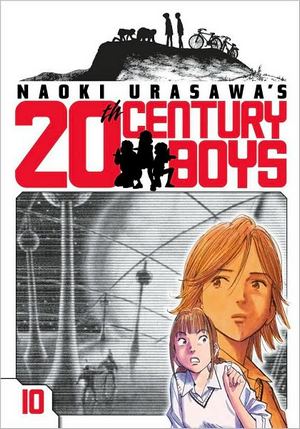 20th Century Boys Volume 10 cover image is courtesy of barnesandnoble.com.
Rated "T+" for "Older Teen"
It was December 31, 2000, Bloody New Year's Eve, when the world was brought to the brink of destruction. Fourteen years later, Neo Tokyo is a thriving, multiethnic metropolis, but the city lives under the shadow of the worldwide cult known as the "Friends". Kanna Endo, the niece of Bloody New Year's Eve's true hero, Kenji Endo, lives and works in the city's Kabuki-cho neighborhood, where she tries to stop a Friends' plot to assassinate the Pope.
In Naoki Urasawa's 20th Century Boys, Vol. 10 (entitled The Faceless Boy), Kanna returns to school. Meanwhile, her classmate Koizumi Kyoko struggles to be free of the Friends after her stay at Friend Land, where she was supposed to be brainwashed. Now, hunted by a "dream navigator," Koizumi may find herself at an even scarier place, Friend World. Meanwhile, they have a new teacher, Sadakiyoshi, who apparently is connected to the Friends and may even be the mysterious leader, the Friend, himself.
THE LOWDOWN: This epic that is 20th Century Boys is bursting at the seams with subplots and characters, but a "cast of thousands" isn't necessarily a bad thing, especially when Naoki Urasawa is the casting director. Of his many gifts is the ability to create poignant little dramas around a bit player that run the course of a few chapters, often not taking up the entirety of any one chapter. He creates these supporting characters for which readers will find themselves rooting. You'll love them and their sad little stories and never want them to exit the stage after they've done their part for the overall story.
POSSIBLE AUDIENCE: Comic book readers looking for the best reads will want 20th Century Boys.
A
Last Updated: Jun 26, 2018 - 9:28