20th Century Boys: Volume 9
By Leroy Douresseaux
June 22, 2010 - 14:24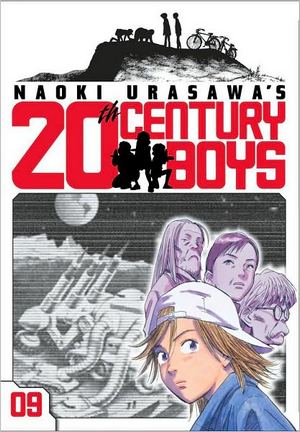 20th Century Boys Volume 9 cover image is courtesy of barnesandnoble.com..
Rated "T+" for "Older Teen"
Bloody New Year's Eve was the event that brought the world to the brink of destruction, 14 years ago on December 31, 2000. It is 2014, and Tokyo is now Neo Tokyo, a thriving, multiethnic metropolis. However, the city lives under the shadow of the worldwide cult known as the "Friends," because the cult's leader, the Friend, saved the world. Kanna, the niece of a Bloody New Year's Eve's participant and its true hero, Kenji Endo, lives and works in the city's Kabuki-cho neighborhood, where she finds herself caught in another Friends plot.
Naoki Urasawa's 20th Century Boys, Vol. 9 (entitled Rabbit Nabokov) finds Koizumi Kyoko still in Friend Land, jacked into its "Virtual World." The scenario is 1971, where she meets Kenji and his pals as boys, but Koizumi is about to commit a grave taboo. She is close to seeing the Friend's childhood face. Meanwhile, Kanna gathers her army, composed of Chinese and Thai mobsters and the homeless in a Kabuki-cho neighborhood Catholic Church. Meanwhile, an assassin prepares to strike.
THE LOWDOWN: This 9th volume of 20th Century Boys is one of the best of the recent volumes (which are all very good, anyway). At this point, creator Naoki Urasawa is able to draw the narrative out and give more color to more characters in a concentrated section of the story. Usually, Urasawa hops around from one subplot to another in 20th Century Boys, but the main story and only one subplot gets the attention. As ever, this remains a page-turning delight; rarely does a series of connected still images simmer the way 20th Century Boys does. I doubt a Hollywood movie could produce a better potboiler
POSSIBLE AUDIENCE: Comic book readers looking for an exceptional comic book will want 20th Century Boys.
A+
Last Updated: August 31, 2023 - 08:12