20th Century Boys: Volume 7
By Leroy Douresseaux
February 12, 2010 - 06:20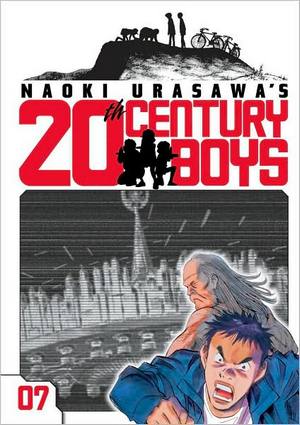 20th Century Boys Volume 7 cover image is courtesy of barnesandnoble.com.
Rated "T+" for "Older Teen"
Neo Tokyo rose out of Bloody New Year's Eve, the event that brought the world to the brink of destruction 14 years earlier on December 31, 2000. However, this now thriving, multiethnic, metropolis still lives under the shadow of the worldwide cult known as the "Friends." Kanna, the niece of a Bloody New Year's Eve's participant, Kenji Endo, lives and works in the city's Kabuki-cho neighborhood, where she finds herself caught in another Friends plot.
In Naoki Urasawa's 20th Century Boys, Vol. 7 (entitled The Truth), Ochiai "Otcho" Choji, one of Kenji's friends, has been in Umihotaru Prison as one of the so-call Kenji Faction terrorist group. Otcho, now known as "Shogun," moves through the bowels of the prison with Kakuta, a recently imprisoned manga artist. The two are prepared to do anything to escape the prison and reach Tokyo, where Shogun can find the "final hope," Kanna Endo.
Meanwhile, Kamisama, the homeless man and prophet who befriend Kenji, reveals to a school girl, the truth of what happened December 31, 2000.
THE LOWDOWN: As usual, Naoki Urasawa spins this narrative from the point of view of multiple protagonists, but in this volume, the focus in on suspense and action. Sometimes, it moves at breakneck speed, but other times, the pace is a steady while the narrative simmers. Regardless of the pacing, this is thrills and chills, proving once again that Urasawa can deliver electrifying dope to the action junkie.
POSSIBLE AUDIENCE: Readers looking for exceptional manga will want 20th Century Boys.
A+
Last Updated: August 31, 2023 - 08:12