20th Century Boys: Volume 5
By Leroy Douresseaux
October 14, 2009 - 14:32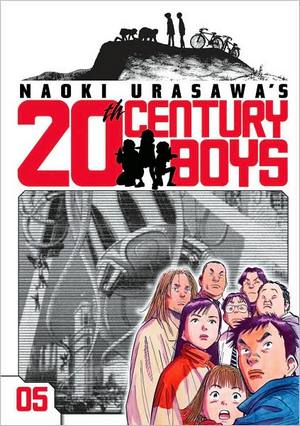 20th Century Boys Volume 5 cover image is courtesy of barnesandnoble.com.
Rated "T+" for "Older Teen"
When Kenji Endo was a boy, he and his friends came up with their own manga fantasy. It featured a plot to destroy the world hatched by a group called the "League of Evil." Years later, Kenji is a man leading a life that is a drag, until he discovers that a bizarre religious cult has hatched a doomsday plot based on the League of Evil scenario. The cult's leader, a man called "Friend," is someone from Kenji's childhood.
Naoki Urasawa's 20th Century Boys, Vol. 5 (entitled Reunion) approaches the end of the 20th century (December 31, 2000), as Kenji's childhood friends race to his side to stop the Friends' plot to destroy the world. One of Kenji's crew also reaches out to their childhood antagonists, the evil twin fat boys, Yanbo and Mabo, who terrorized Kenji and company to no end. Now, sleek-looking software engineers, the brothers are willing to listen, but will they help?
THE LOWDOWN: Manga-ka Naoki Urasawa often gives his readers just enough of the ropes of anticipation and suspense to hang themselves. In fact, many readers will find themselves hanging on the huge anticlimactic gallows that waits for them at the center of this volume. Not to worry, Urasawa drops us head first into another maze. I can't be mad because Urasawa at least respects his readers' intelligence, or maybe he assumes that his readers are both exceptionally bright… and patient.
POSSIBLE AUDIENCE: Readers looking for exceptional manga will want 20th Century Boys.
A
Last Updated: August 31, 2023 - 08:12