Tsubasa Reservoir Chronicle Volume 10
By Julie Gray
October 1, 2006 - 00:51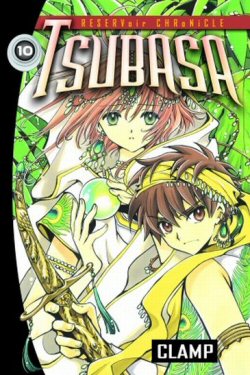 Tsubasa Reservoir Chronicle Volume 10 cover
What can be said about Clamp, the creators of this manga? They are a group of four female manga-ka who are now ranked amongst some of the most well known manga artists in the US and Japan. The 'Tsubasa' manga series is extremely popular in both countries and is serialised in Shonen Jump magazine in Japan.
The Tsubasa Reservoir Chronicle Volume 10 begins with the death of Yasha-ô, killed by the godlike being, Ashura-ô. For readers who are not familiar with the story, it would be a good idea to do a little background reading. The Tsubasa Reservoir Chronicle is quite developed and the characters also have a lot of history too lengthy to summarize in this review. The background of the story relates to one of the main characters, Princess Sakura, who has lost her memories and the only way she can regain them is through the help of her friends who are collecting powerful feathers from different worlds.
Throughout this journey, many of the characters have become enemies in the attempt to recover Princess Sakura's memories and have had to fight each other as well as separation and desperation. Tsubasa Reservoir Chronicle Volume 10 places young Syaoran in the middle of it all. When the team arrives at Piffle world, they discover that there is an opportunity to recover another one of the feathers for Princess Sakura. The only hitch is that the feather is the grand prize in a race that they must win to secure the feather. This is of little consequence to Princess Sakura who is willing to do whatever it takes to get her memories back.
The characters in this manga are complex and seem to overlap and intertwine a lot throughout the story. There is also a very interesting plot that seems to go back and forth from past to present. The traveling that Princess Sakura and her friends undertake seems to have its impact on the universe and in particular, on the planets they visit themselves. History itself is being altered by their time travel.
Tsubasa Reservoir Chronicle Volume 10 is just one more slice of something epic and exciting. The characters are great and the story is even better. It's a little difficult coming into the series so far in so if you're interested in this series and you enjoy this review, we highly recommend starting at the beginning. Here is the Del Rey website for this volume. The end of the book also has some interesting extras as well as translation notes and an introduction to the authors.
Art Work: 8/10
Story: 9/10
Overall Rating: 8/10
Email the author: Julie@comicbookbin.com
Last Updated: January 24, 2022 - 11:00