Tsubasa Album De Reproductions: Original Art Collection
By Leroy Douresseaux
December 22, 2009 - 12:22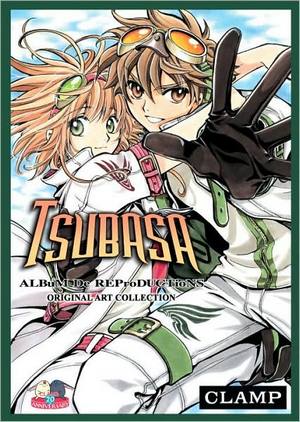 Tsubasa Album De Reproductions cover image courtesy of barnesandnoble.com.
Rating "T Ages 13+"
CLAMP is an all-female manga artist (manga-ka) collective. While its membership has shifted since its early days as a group producing amateur manga (dojinshi), CLAMP is currently comprised of four artists: Satsuki Igarashi, Ageha Ohkawa, Tsubaki Nekoi, and Mokona (according to the website, Anime News Network). 2009 is also the 20th anniversary of CLAMPs professional debut, RG Veda, a shojo manga that was eventually collected in 10 volumes (with TOKYOPOP producing English language editions).
In celebration of this anniversary, Del Rey Manga has published an English edition of the 2007 art book, Tsubasa Album De Reproductions: Original Art Collection (stylized as Tsubasa ALBuM De REProDUCTioNS: Original Art Collection). This book collects color art that CLAMP produced as magazine and book covers and interior art, posters, calendars, advertisements, video game booklets, etc. There are even a few pieces produced exclusively for this book, including a five-page manga short.
Tsubasa fans that don't have access to the original source material for the art collected in Tsubasa Album De Reproductions will certainly want this. I have only a passing interest in CLAMPs manga, but I am impressed with the colorful selections here. These are pin-ups and illustrations in a large format (8.25" x 11.5") that highlights CLAMPs sense of composition and color and the artists' delightful imaginations. CLAMP fans could not find a better way to spend their Christmas cash than buying Tsubasa Album De Reproductions: Original Art Collection.
Last Updated: August 31, 2023 - 08:12