Tsubasa Character Guide 2
By Leroy Douresseaux
October 20, 2009 - 12:32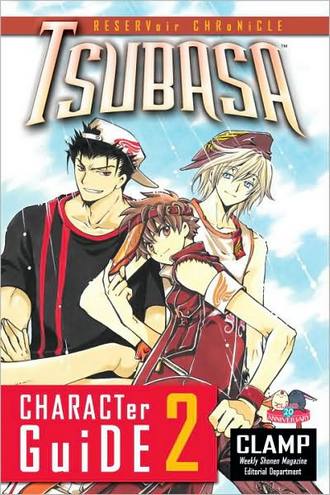 Tsubasa Character Guide 2 cover image is courtesy of barnesandnoble.com.
Rating "T Ages 13+"
Tsubasa: Reservoir Chronicle (stylized as Tsubasa: RESERVoir CHRoNiCLE) is a fantasy shonen manga (comics for teen boys). Written and illustrated by the manga-ka group, CLAMP (Chobits, Cardcaptor Sakura), Tsubasa was serialized in the Kodansha publication Weekly Shonen Magazine (2003-2009). This series basically follows a small group of people, led by the teenager, Syaoran, who race across dimensions to retrieve the memories of Princess Sakura.
In North America, Del Rey Manga publishes Tsubasa: Reservoir Chronicle. Del Rey also publishes reference books related to the series, including the recently released Tsubasa Character Guide 2 (stylized as Tsubasa CHARACTer GuiDE 2). This guide offers information on the people, creatures, worlds, and mysteries of Tsubasa: Reservoir Chronicle, Vols. 8-14. The guide includes much miscellanea, art, and back matter: character guides, an interview with CLAMP, a guide to the world of Tsubasa, a pullout poster, a color and a black and white illustration gallery featuring the key characters, a fan section of polls about the series, games, and sketch art.
THE LOWDOWN: I am not familiar with Tsubasa: Reservoir Chronicle, and because of that, a book like this, filled as it is with so much Tsubasa stuff, while being short on basics, won't make it easier for me to start reading Tsubasa. There isn't even an overview of the series. Casual fans or readers of the series might enjoy this guide or even be helped by it, but the serious or hardcore fan/reader will likely consider this a kind of Christmas gift. There are two things at the very end of the book that helped me to like Tsubasa Character Guide 2. A story board of a sequence from the Tsubasa anime and the script for Chapter 66 of the manga definitely caught my attention.
POSSIBLE AUDIENCE: Not only Tsubasa: Reservoir Chronicle fans, but perhaps, any CLAMP fan will at least want to take a look at Tsubasa Character Guide 2.
Last Updated: August 31, 2023 - 08:12