Tsotsi
By Al Kratina
March 30, 2006 - 22:39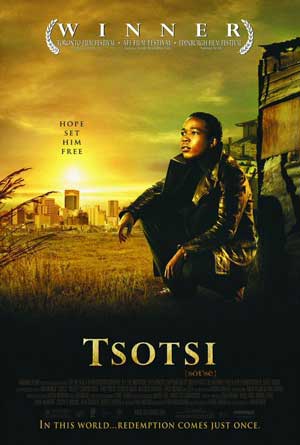 The Crow gets inspired by a sunrise.
Martin Scorsese is a great filmmaker. Films like
Raging Bull
,
Goodfellas,
and
The Last Temptation of Christ
have gone down in cinematic history as some of the most rich and fascinating works of art in the medium, and yet the man has never won an Oscar. Instead, he just has to settle for the fact that his themes of gangland redemption have spread around the world like a flu pandemic.
Tsotsi
, this year's Oscar winner for Best Foreign Language Film, is the latest in a long line of foreign language action/dramas that borrow a page from Scorsese's book and subtitle it, following in the footsteps of
City of God
. Taking place in a South African slum,
Tsotsi
follows a young thug who inadvertently finds the path to redemption by stealing a baby. Not the most traditional of re-habilitation methods, granted, but it probably works better than electro-shock. The film starts out brutal and cruel, but gradually warms as the mewling infant turns the heartless gang leader into a sympathetic character through the magic of alchemy and diarrhea. It's actually a highly engaging progression, though the shift from bitter to sweet does leave a bad taste in your mouth, like sucking on a Life Saver when your gums are bleeding.
Director Gavin Hood makes the most of a no doubt tiny budget. The cinematography is excellent, alternating a hopeful gold and dust tint with a depressing noirish shade, like
Blade Runner
but without the rain and robots. Combined with strong performances from Presley Chweneyagae and Kenneth Nkoski, the film certainly stands on its own two legs as an effective, if saccharine, piece of filmmaking. But the exotic location and idiosyncrasies of its story-telling are in constant conflict with the familiarity of the script and the predictability of its character arcs, making it difficult for the film to truly distinguish itself. Ultimately, while
Tsotsi
's message of redemption is a powerful one, if I wanted to hear that kind of sermon, I'd either go to church, or rent another Scorsese movie.
Last Updated: May 19, 2020 - 12:25