Toy Story of Terror Blu-ray review

By Leroy Douresseaux
August 19, 2014 - 20:22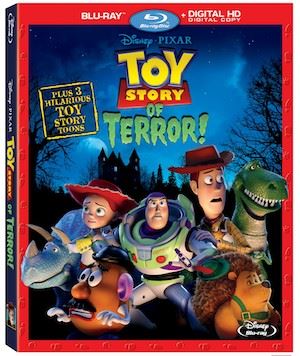 Toy Story of Terror Blu-ray box art in 3D
Follow me on
Twitter
.
Woody
,
Buzz Lightyear
, and the rest of the Toy Story gang made their return in "
Toy Story of Terror!
" This Halloween-themed, 22-minute television special aired on the ABC television network on October 16, 2013.
Now, audiences can see it again when
Toy Story of Terror
arrives on Blu-ray Combo Pack and "Disney Movies Anywhere" on Tuesday, August 19,, 2014. Reuniting after the events of the Academy Award-winning, worldwide box office smash,
Toy Story 3
, Buzz, Woody and the gang join new friend,
Combat Carl
, for a spooky tale full of mystery and humor that is a must-own for fans of Toy Story and Disney•Pixar. This new release includes never-before-seen bonus features, including parody vintage toy commercials, deleted scenes, audio commentary and much more.
Written and directed by Angus MacLane, Toy Story of Terror! features the voice talents of original "Toy Story" cast members Tom Hanks as "Woody," Tim Allen as "Buzz Lightyear," Joan Cusack as "
Jessie
," Timothy Dalton as "
Mr. Pricklepants
," Don Rickles as "
Mr. Potato Head
," Kristen Schaal as "
Trixie
," and Wallace Shawn as "
Rex
," along with series newcomer Carl Weathers as "Combat Carl/
Combat Carl Jr.
" Stephen Tobolowsky voices,
Ron
, a shady motel manager.
Toy Story of Terror! finds the Toy Story gang traveling with their new owner,
Bonnie
, and her mother
Mrs. Anderson
. What starts out as a fun road trip, however, takes an unexpected turn for the worse when the trip detours to a roadside motel, the
Sleep Well Motel
. After one of the toys goes missing, the others find themselves caught up in a mysterious sequence of events that must be solved before they all suffer the same fate in this apparent toy story of terror.
This Toy Story of Terror release also includes three "Toy Story Toons," the animated shorts that supplement the world of the Toy Story films. They are
Hawaiian Vacation
(released to theaters with
Cars 2
in 2011),
Small Fry
(originally released to theaters with
The Muppets
in 2011), and
Partysaurus Rex
(appeared with the 3D re-release of
Finding Nemo
in 2012). These short films are not great, but they are at least a chance to see the Toy Story gang again.
THE LOWDOWN:
If you want to be cynical, you can see the Toy Story of Terror Blu-ray release as just more product that Disney is releasing to exploit its lucrative
Toy Story
franchise and brand. However, the reality is that the Toy Story film franchise is made of three of the best animated films of all time, which are also three of the best films overall of the last 20 years. Only one was nominated for the best picture Oscar (Toy Story 3), but the other two should have been as well. Indeed, I still argue that
Toy Story 2
was the best film of 1999, and is certainly more memorable and has been watched more than the best picture Oscar winner that year,
American Beauty
.
Granted, the Toy Story short films have not been as good as the feature-length movies, but Toy Story of Terror! is closer to the original films in terms of quality and in spirit. Writer-director Angus MacLane uses the films as his template: put the toys in danger; give them an opportunity to overcome their own self-interests and presumptions; and then, bring them together to rescue each other. If Disney is about family entertainment, Toy Story is the story of family – ever-growing and diverse. They build on love and friendship and not simply on blood ties. The Toy Story gang is the story of all the different kinds of people in America as a family. Toy Story of Terror is even tied to one of America's favorite family holidays, Halloween.
So the Toy Story of Terror Blu-ray is not more product. It's more fun with one of our favorite and most beloved Disney families.
POSSIBLE AUDIENCE:
Toy Story fans of all ages will want the
Toy Story of Terror Blu-ray Combo Pack
.
Rating: A- /10
Last Updated: February 5, 2023 - 09:06