Comics / Comic Reviews / More Comics
Tim Ginger comics review

By Leroy Douresseaux
September 24, 2015 - 19:30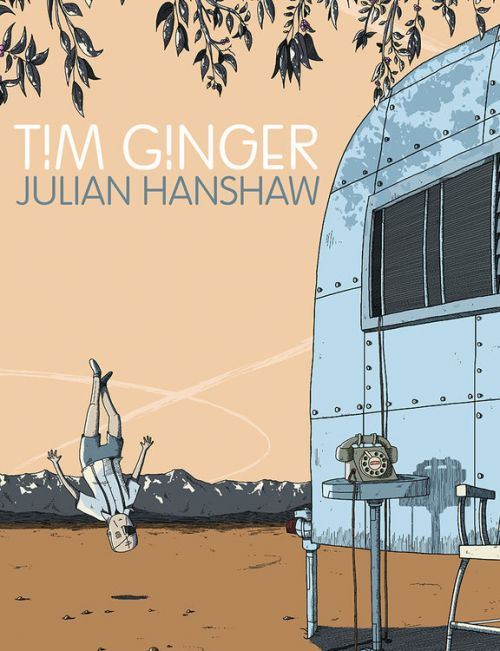 Tim Ginger cover image
Mature readers (16+)
British cartoonist and comics creator,
Julian Hanshaw
, makes his American debut with the original graphic novel,
Tim Ginger
. Mixing color and black and white,
Tim Ginger
focuses on a widower who finds his quite life interrupted by two people, one of whom is an old friend.
Tim Ginger
is a former government test pilot who is retired and is living in New Mexico. Tim has been a widower since the death of his wife,
Susan B. Ginger
, a little more than two decades before this story opens (apparently 2015). He lives a quiet retirement in an Airstream trailer situated in an RV park in New Mexico.
He and his late wife did not have children so he is mostly alone. Then, two people enter his life. The first person is
Karl Pope
, a conspiracy theorist who starts asking uncomfortable questions. Tim may have the answers, so Pope will not stop asking questions – directly or indirectly. The second person is an old and dear friend,
Anna Maynard
. It is her return that causes Tim some discomfort, as he confronts when to let go and when to hold on.
THE LOWDOWN:
When Pixar Animation's film,
Up
, was released, some people expressed surprise and amazement that the studio would make an animated feature about a very old man who is still grieving the loss of his wife and the lonely boy with whom he shares a grand adventure. By the end of Up, which went on to win two Academy Awards, it is obvious that the movie was about love and renewal and not about age.
Tim Ginger
is not a very old man; he is apparently in his mid-60s. He is lonely and grieving, so he does not seem like a good character for a comic book. Still, there are always comics creators who ignore preconceptions about what comic books should be, and some actually expand readers' expectations of the stories that comic books can tell. Julian Hanshaw is one of them.
By the end of
Tim Ginger
, it is obvious that this story is about living instead of merely being alive, and that age is not the only determinate in living one's life, if it is a determinate at all. While Hanshaw, on the surface, makes his graphic novel meditative, the story is alive.
Hanshaw takes Tim's internal monologue and interior life and pushes it forward as an active, living, breathing graphical narrative.
Tim Ginger
's colors, which mimic the warm desert colors and its ethereal sunsets, makes the quiet life of Tim raucous with possibility. That's why I found this comic book hard to resist. It is like the alt-comics version of a thriller; I flipped through the pages, while often going back to re-read passages.
I think what most attracts me to
Tim Ginger
is that this story is so surprising. Just glancing at this book, you would not think that
Tim Ginger
could turn out to be such a fantastic work. I want to read it again.
Tim Ginger
is a spectacular American debut for Julian Hanshaw, the calling card that will make readers anxious for his next work.
POSSIBLE AUDIENCE:
Readers looking for highly original, original graphic novels will want to read
Tim Ginger
.
Rating: A /10
Last Updated: September 6, 2021 - 08:15