Tokyo Ghoul: Volume 8 manga review
By Leroy Douresseaux
Aug 23, 2016 - 22:00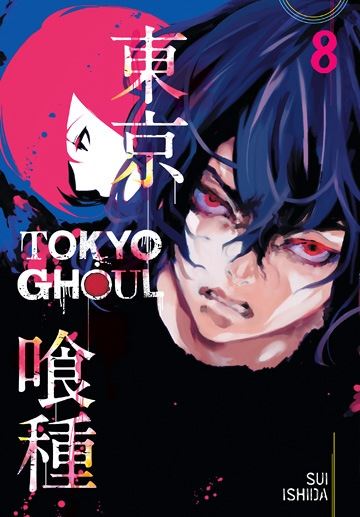 Tokyo Ghoul Volume 8 cover image
Rated "T+" for "Older Teen"
Shy, ordinary college student,
Ken Kaneki
, attends Kamii University, where he studies Japanese literature. This book-loving freshman is excited to go on a date with the beautiful
Rize Kamishiro
, but he does not know that she is a
Ghoul
. They look like humans and live among us, but Ghouls crave human flesh. Soon, Kaneki finds himself a hybrid, trapped between the worlds of Ghouls and humans.
Tokyo Ghoul

, Vol. 8
(Chapters 69 to 79) opens during the height of battle. The
CCG
, the local Ghoul-investigating law enforcement agency, has launched an assault on Ghoul organization
Aogiri Tree
's headquarters, and they are prepared and capable of destroying Ghouls. Meanwhile, the
Anteiku Squad
also launched a raid on those same headquarters to rescue Kaneki, who was a slave in the clutches of the sadistic Ghoul, Yamori a.k.a. "Jason."
Now, it Kaneki's turn to save 18-year-old
Touka Kirishima
, a female ghoul who has befriended Kaneki. However, the ghoul trying to kill Touka is her younger brother, the hot-blooded
Ayato
. Plus, learn some of the history of Touka and Ayato.
THE LOWDOWN:
The
Tokyo Ghoul
manga continues to improve with each volume, becoming a topnotch dark fantasy manga. It is also becoming ever more clear to the reader that this is a complex, evolving world of Tokyo Ghouls. So far, the series has just scratched at the murky surface of its internal mythology, but the narrative is ready to do more than scratch.
Tokyo Ghoul Volume 8
offers plenty of kick-ass battle manga, but there is also a generous serving of one of my favorite manga elements, the back story/history. The hero, Ken Kaneki, is also evolving. Like me, readers may be sad to realize that Kaneki the gentle-soul is gone, but we will go an adventure as he discovers the new him. That is a good reason to keep reading.
POSSIBLE AUDIENCE:
Fans looking for a different kind of dark fantasy comic will want to taste VIZ Signature's
Tokyo Ghoul
.
A
Rating: A /10
Support this writer on Patreon
Last Updated: Jun 26, 2018 - 9:28