Togari: Volume 1
By Leroy Douresseaux
Jul 11, 2007 - 12:50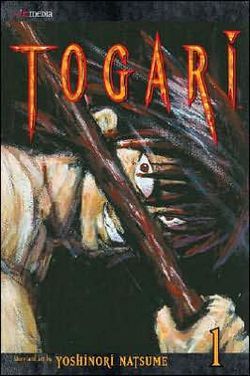 Thanks to barnesandnoble.com for the image.
Tobei
was a ruthless, murderous young punk in feudal Japan until he was beheaded. Then, he went to Hell. After being tortured for 300 years, the beautiful female demon,
Lady Ema
, makes Tobei an offer he simply won't refuse. Tobei will be sent to the modern world where he must collect
108
malevolent spirits. Called "
Toga
," they are the corporeal form of sin, and if he collects 108 Toga in 108 days, he'll gain his freedom. To fight the Toga, Lady Ema gives Tobei the magical wooden sword,
Togari
.
There are catches, however. He cannot commit sins or crimes, or he will be decapitated again and returned to Hell. He cannot harm a person, or he will receive twice the injury. The latter is a problem because each embodiment of sin has attached itself to a human, and Tobei has a difficult time fighting the sin spirit without occasionally hitting the human.
In Togari, Vol. 1, Tobei attacks the Toga wherever he can find them, with his former tormentor from Hell, Ose (who has taken the form of a dog), acting as his "conscience." His one-man war brings him into contact with Itsuki, the daughter of a policeman killed in the line of duty. Tobei has a difficult time adjusting to the modern world, and he discovers that some Toga have attached to humans who hold positions of great power in society.
THE LOWDOWN: What the first volume of Togari presents is a lot of potential. This first book is primarily an introduction to the concept, the style of its execution, and the series dark, violent mood. The art by creator Yoshinori Natsume features heavy inks, lots of crosshatching, and copious amounts of shading. For the most part, everything Natsume is trying works, but the best may be yet to come. As of this volume, some of the disparate genre elements (action, crime, fantasy, horror, etc.) don't quite gel.
FOR READERS OF: This is a violent fight manga that, as of Vol. 1, looks as if it is mainly a horror comic, but there are hints that it may also be an action/crime comic or at least have the flavor and mood.
B
Last Updated: Jun 26, 2018 - 9:28