Comics / Comic Reviews / More Comics
The Plaid Avenger #2
By Leroy Douresseaux
April 20, 2010 - 12:24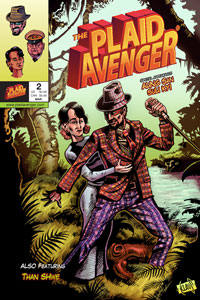 Plaid Avenger #2 cover image.
The Plaid Avenger is back. The brainchild of John Boyer, a professor at Virginia Tech in Blacksburg, Va., and graphic designer Klaus Shmidheiser, The Plaid Avenger is an international fighter for freedom. He is a superhero combining the basics of the masked hero, costumed adventurer, and super spy.
A hybrid of James Bond and Batman, he dresses in plaid – coats, pants, hats, and mask (even plaid briefs). By day, the Plaid Avenger is a college professor. By night, he is ready to travel the world to deal with incidences of international injustice, and he is always up for international intrigue.
Creator/writer John Boyer uses The Plaid Avenger as a vehicle to explain and to give details on current events and real world issues. In The Plaid Avenger #1, the hero took on world powers (including former Vice-President Dick Cheney) to save the Arctic and also to alert his readers to the perils facing the region.
In The Plaid Avenger #2, the titular hero races to Burma (AKA Myanmar) to save humans rights and democracy advocate, Aung San Suu Kyi, from Senior General Than Shwe, head of the military junta that rules Burma. The Plaid Avenger has gotten word that Shwe plans to move Suu Kyi, a Nobel Peace Prize winner, to a high security prison. Will The Plaid Avenger get there in time to rescue her and is he ready to face Shwe?
Like the first issue, the second issue of The Plaid Avenger is not only a successful educational comic book; it is also inimitably entertaining. The Plaid Avenger is kind of like early costumed superheroes – part vigilante and part costumed adventurer. Boyer understands what this mix offers in terms of entertainment, as The Plaid Avenger is filled with fast-paced action and dry wit (see Moby Dick's roll in this issue).
Artist Klaus Shmidheiser captures both sides of this series – the adventure story and the informative. Shmidheiser's storytelling can spin a nice superhero yarn, but the artist also has a way of slowing down the fantasy to focus on those segments of the story in which Boyer has to push real world details concerning Burma. Shmidheiser's balancing act is worthy of being noticed by comic book fans, and so is this comic book.
A
www.plaidavenger.com
The John Boyer Comic Book Bin interview: www.comicbookbin.com/bubble139.html
For more of me, visit www.negromancer.com
Last Updated: August 31, 2023 - 08:12