Comics / Comic Reviews / More Comics
Plaid Avenger #1
By Philip Schweier
March 7, 2009 - 18:46
"The Plaid Avenger is an international fighter for freedom. He is a college professor by day, but roams the planet to fight international injustices and solve instances of international intrigue. He acts on his own accord, searching out and fighting evil in all regions of the world." So opens the first issue of
The Plaid Avenger
, a quirky but entertaining comic book I received in the mail this week. Does it have super-villains? No, unless you count former United States vice president Dick Cheney. But it does feature a daring escape from a Russian submarine.
In between romancing the women (after a dip in Arctic waters, no less) and the occasional martini, the Plaid Avenger exposes the impact of the melting polar ice cap, and what it means for the nations of Norway, Denmark, Canada, the United States and Russia, as each country jockeys for position to capitalize on the impending environmental change. Going beyond the usual "global warming bad" rhetoric, the Plaid Avenger explains what it means for the oil fields beneath the polar region, and the dramatic change in shipping routes, and how both will affect the indigenous people of the North. While presented with tongue-in-cheek humor, there is a significant amount of truth in the Plaid Avenger's assessment of the situation, complete with citations and source references.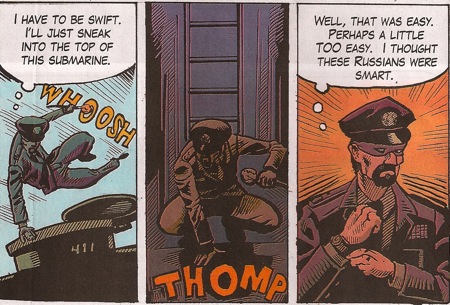 The art is competently cartoony, presenting the material in a not-so-serious manner, while still allowing the writers to get their points across clearly, concisely, and without detracting from the overall story. Too often, self-publishing artists try to overwork one or more aspects of the art, as if trying to make up for shortcomings. Shmidheiser presents it simply and clearly without a lot of needless dressing.
To say
The Plaid Avenger
was the best comic book I read this week would be unfair, because the fact is it's the only comic I read this week. Still, it presented an important topic in an entertaining and thought-provoking manner without getting preachy. The Plaid Avenger suggests readers get involved by contacting their elected officials, turning to the World Wildlife Fund, or investing in some of the beachfront property sure to climb in value as nations continue to develop the Arctic region.
Last Updated: June 23, 2021 - 00:45