Comics / Comic Reviews / More Comics
The Homeland Directive Review
By Leroy Douresseaux
January 10, 2012 - 14:04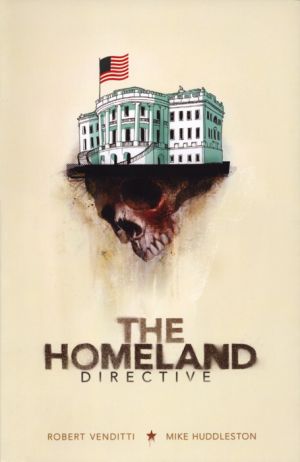 The Homeland Directive cover image
Rating: Young Adult (13+)
The Homeland Directive is a recent graphic novel from writer Robert Venditti, who exploded onto the comics scene five years ago with the comic book miniseries turned graphic novel, The Surrogates (beautifully drawn by Brett Weldele). For The Homeland Directive, Venditti has another talented artist as his collaborator, Mike Huddleston. A comic book artist, illustrator, and concept designer, Huddleston has drawn for DC Comics (Harley Quinn and Gen13) and created The Coffin with Phil Hester.
The central character of The Homeland Directive is Dr. Laura Regan, a researcher for the Center for Disease Control and Prevention (C.D.C.) and one of the world's foremost authorities on viral and bacteriological studies. She is one of the good people, but after her research partner is murdered, Laura finds herself accused of the crime and on the run. Unbeknownst to Laura, she is at the heart of a vast and deadly conspiracy, and a shadowy assassin, who uses several identities, is assigned to kill her.
Luckily, Laura gets her own shining knights in the form of three rogue federal agents: Nathan Pollack of the FBI, Gene Robillard of the U.S. Secret Service, and Theodore "Ted" Wychek of the Bureau of Consumer Advocacy (BOCA). Can Laura expose a sinister plot before law enforcement, deadly mercenaries, and a government team of cyber-detective eliminate her?
Even without the science fiction, futurist, and allegorical elements that he used in The Surrogates, Robert Venditti has written a riveting cautionary tale full of omens and portents about the day after tomorrow. The Homeland Directive is in the vein of classic conspiracy thriller movies (like The Parallax View), and is also a witty twist on the bodyguard story.
For all its action movie/suspense thriller theatrics, The Homeland Directive graphic novel is more than just eye-candy thrills. It certainly is addictive; I could only stop reading it once, and that was because I had an errand to do. It is a page-turner just as stimulating as a summer potboiler novel, but it is more than mere stimulation. The Homeland Directive is practically a screaming tract about the dangers of technology and about how personal privacy and national security are threats to one another. How do you balance the two? Can you balance the two? This graphic novel is not paranoid. It's worried.
Artist Mike Huddleston does more than just tell the story. Combining graphic design, cut-and-paste, and drawing, Huddleston creates a world that seems disjointed, although it is one that is supposed to be more connected because of technology. The environments in this story are well lit, but there are shadowy plots and adversaries everywhere. Huddleston calms the story's fast (even manic) pace and reveals what Venditti crafted underneath the fast-moving set pieces of this story: a cautionary tale about the ever-hungry, ever-expanding Big Brother.
The Homeland Directive is one of 2011's best graphic novels.
A
Last Updated: January 24, 2022 - 11:00