The Ghost in the Shell: Volume 1
By Leroy Douresseaux
November 16, 2009 - 08:41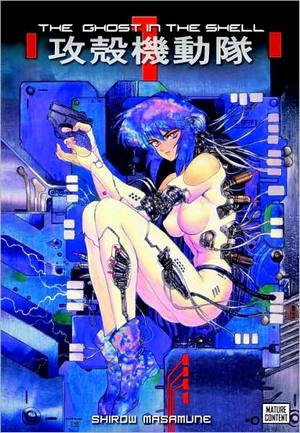 The Ghost in the Shell Volume 1 cover image is courtesy of barnesandnoble.com.
Rating "M Ages 18+"
Somewhere between Tron, Blade Runner, and Neuromancer, and then, The Matrix and "CSI: Crime Scene Investigation" lies The Ghost in the Shell. This is the famed science fiction manga and media property (anime series and films, video games, novels) created by Shirow Masamune (Appleseed). Although it first appeared in Young Magazine in 1989, The Ghost in the Shell first made a splash in the comics reading consciousness with its publication as a tankoubon or manga trade paperback in 1991.
In North America, Dark Horse Comics published Ghost in the Shell as a trade paperback in 1995, after first publishing it as an eight-issue comic book miniseries. Now, Kodansha, the original Japanese publisher of TGITS, has an American subsidiary, Kodansha Comics, which recently released a new trade edition of the book.
The Ghost in the Shell has as its protagonist a female cyborg, Major Motoko Kusanagi. She is a "super agent" charged with tracking down the craftiest and most dangerous terrorists and cyber-criminals. Major Kusanagi answers to Chief Daisuke Aramki, who runs Section Nine of the Public Security Bureau. For most of her missions, Kusanagi is assisted by her second-in-command, fellow cyborg, Batou, and Togusa, a "natural," which is a person who hasn't undergone cybernetic replacements on his body. They are also often joined on their missions by a robot collective called "Fuchikoma." The Fuchikoma are mini-mecha-like robots that resemble dogs; they can roll or walk and can also be used as tank-like vehicles for Kusanagi and company.
The Ghost in the Shell's overarching story centers on Kusanagi's hunt for a cyber-criminal known as The Puppeteer, but except for a name, he/she/it is otherwise unknown. The Puppeteer commits his crimes via "ghost hacking" which is a method of breaking into and taking control of human minds. Kusanagi gradually discovers that not only is her adversary truly unique, but he also wants a relationship with her. Individual storylines focus on, among other things: a conspiracy involving an orphanage, Russian agents, and plot involving the Syrians and Israel's intelligence agency, the Mossad.
One of my college professors, whose field of expertise was Shakespeare and Elizabethan drama, said that he did like the phrase, "ahead of his time," especially related to Shakespeare. He believed that people could only be "of their time. One could say that Williams Gibson's novel, Neuromancer, which likely influenced The Ghost in the Shell, was ahead of its time because of the cultural and technological influences that came long after the book's release.
A comic book like Howard Chaykin's American Flagg! could be considered not ahead of its time, but rather timeless. Some of its predictions about the future were wrong. What makes American Flagg! timeless are its depictions of types of social conditions, human behavior, culture, and politics that are, in a broad sense, consistent in human history.
The Ghost in the Shell is backwards looking in some ways, but it was and is ahead of its time in other ways. Its plot and narrative structure recalls cyberpunk, police procedurals, and detective fiction, and it also predates military procedurals (like CBS' defunct television series The Unit). One can also hear Raymond Chandler's voice in the narrative. What makes this manga ahead of its time goes beyond its concepts, ideas, or even the fact that important sections of the narratives takes place in cyberspace and virtual reality.
Masamune layers sci-fi action, gunplay, car chases, violence (headshots galore), etc., over what makes this timeless, which is the creator's sense of wonder. Masamune constantly explores what is next for humans, machines, artificial intelligences, and combinations of those. Masamune's narrative is spiritual in its quest for what is coming next for our world and our existence. He seeks not the origin, but contemplates the road ahead, both in terms of where we are going and how we are evolving.
There is a lot of fun stuff here, so readers can focus on the surface seinen manga action. Masamune's comic looks like an amalgamation of manga, Heavy Metal comics, and American Underground Comix (such as Spain's Trashman). It is visually potent and often inscrutable, but its sense of wonder and exploration makes its ideas still seem fresh two decades after its debut.
Who knows? The Ghost in the Shell may seem ahead of its time for a long time to come.
A
Last Updated: August 31, 2023 - 08:12