Terminal Press Publishes Adam Street Sketchbook
By The Editor
July 5, 2009 - 21:00
Terminal Press' first Sketch Book brings fans beautiful women and a chance at original art with Adam Street's "Epiphany"
Terminal Press has a reputation for working with artists who illustrate beautiful, sexy women (Debbie Does Dallas, Candy Stripers, Deep Throat) and their newest book is overflowing with everything fans have come to expect.
In 2006 Adam Street left his "day job" to color comics full-time. Working for SotoColor, he has colored some of Marvel Comic's top properties such as: Spiderman, X-Men, Fantastic Four and the Hulk. He has also worked for DC Comics, Image, Terminal Press and IDW Publishing.
Though Street is known for his coloring, what many do not know is that he is a budding "good girl" illustrator. Epiphany is an expanded collection of his girlie sketches and beautiful color illustrations.
To celebrate the release of his first Sketch Book and give fans a shot at some original artwork of their own, Adam Street will also be doing $5 Sketch Cards for a limited time. His Sketch Cards are 3"x5", done on Bristol paper, with either Copic Grey or Color Markers.
"Epiphany" is available at http://terminalpress.com/epiphany.html along with a preview of the 60 page Prestige format book. The Limited Edition print run will only be available through terminalpress.com and Terminal Press' convention appearances.
Adam Street's Sketch Cards are available for a limited time at http://terminalpress.com/adam-street-sketch-cards.html.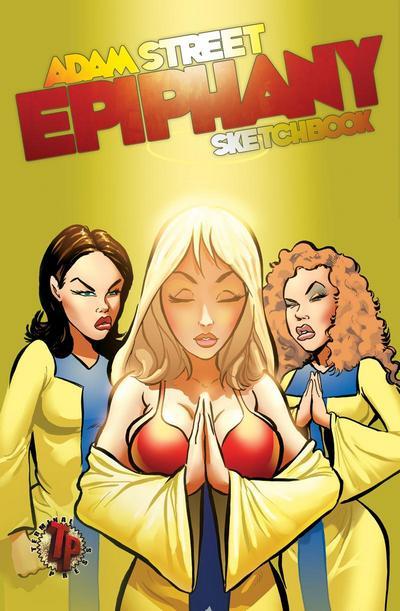 Epiphany cover art
Last Updated: September 6, 2021 - 08:15