Tenjo Tenge: Full Contact Edition: Volume 3
By Leroy Douresseaux
October 24, 2011 - 13:03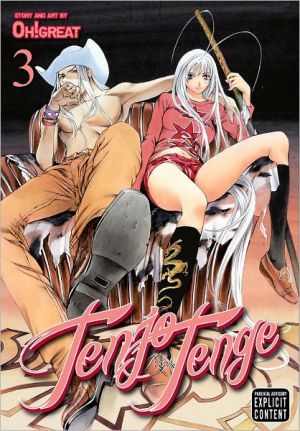 Tenjo Tenge Full Contact Edition Volume 3 cover image is courtesy of barnesandnoble.com.
Rated "M" for "Mature"
Tenjo Tenge (originally Tenjho Tenge) is a martial arts manga from Oh!great (the penname of Ito Ōgure), the creator of Air Gear. A seinen manga – comics for adult men – Tenjo Tenge features profane language, nudity, and sexual situations. It is set at Todo High, which is dedicated to training students in the art of combat. The series focuses on the members of the Juken Club and their opposition, the Executive Council, which is the ruling student body of Todo High.
VIZ Media is now publishing Tenjo Tenge in its full R-rated glory. Each volume of VIZ Media's Tenjo Tenge: Full Contact Edition 2-in-1 will collect two of the original Japanese volumes.
Tenjo Tenge: Full Contact Edition 2-in-1, Volume 3 collects Vols. 5-6. Early in the story, Shin Natsume, inheritor of the Dragon Eyes, puts a brutal beat down on Ishimatsu. Now, the young man who mentored his own sister, Maya Natsume, and also Mitsumomi Takayanagi, needs to be humbled. Bunshichi Tawara, once a close friend of Shin's, decides to take on the task, but can he really beat some sense into one who possesses such immense power? Then, the Imperial Martial Arts Tournament begins.
THE LOWDOWN: My first reading of Tenjo Tenge practically made me blush because of the (actual) sex and (extreme) violence. Now, I find it rather enjoyable, but it still manages to shock me. I like the action and martial arts, and fans of battle manga will find a fight to like in just about every chapter. The sex manages to be quaint, gratuitous, or funny, but the battles are always more exciting than the humping. I still think that there are too many characters in this series, but I'm ready for more.
POSSIBLE AUDIENCE: Readers looking for R-rated martial arts will get that in Tenjo Tenge.
B+
Last Updated: August 31, 2023 - 08:12