Tenjo Tenge: Full Contact Edition Volume 10 manga review
By Leroy Douresseaux
December 28, 2012 - 10:34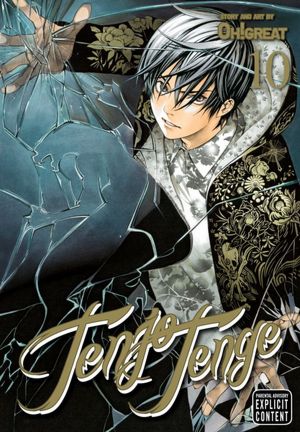 Tenjo Tenge Full Contact Edition Volume 10 cover image is courtesy of barnesandnoble.com
Rated "M" for "Mature"
Tenjo Tenge is a martial arts and seinen manga (comics for adult men) from manga creator, "Oh!great," the penname of Ito Ōgure (Air Gear). Debuting in 1997 in the magazine, Ultra Jump, Tenjo Tenge is set in and around Todo Academy, a high school dedicated to training students in the art of combat. The series focuses on the members of the Juken Club and their opposition, the Executive Council, which is also the student group that rules Todo Academy.
VIZ Media is currently publishing Tenjo Tenge as Tenjo Tenge: Full Contact Edition 2-in-1, which gives readers two volumes in one single graphic novel. Unlike the earlier English-language publication of the series, the Full Contact Edition retains the violence and nudity depicted in the original Japanese publication. Tenjo Tenge: Full Contact Edition 2-in-1, Vol. 10 collects Vols. 19-20 of the Japanese editions.
Tenjo Tenge Volumes 19 and 20 are the battle royale specials – the Executive Council versus the Juken Club in the 107th Imperial Martial Arts Tournament. Mitsuomi Takayanagi pounds on Bunshichi Towara. Soichiro Kengo Nagi battles Hirohiko Myoun Kabane and his sister, Nui, arguable the two most powerful members of Red Feathers.
Masataka Takayanagi later takes on his brother, Mitsuomi. Sohaku Kago battles Soichiro on the spiritual plane. Sohaku gathers the force known as Red Ki, and the result is that Susano-O the Swift who is the Supreme Warrior is born. Can Mitsuomi test his prowess against Susano-O? And who or what is Susano-O?
THE LOWDOWN: The tenth volume of the Tenjo Tenge: Full Contact Edition 2-in-1 manga has some of the series' best art. That's saying a lot in a series with some really beautiful art that showcases some impressive draftsmanship. This is not, however, art merely meant to be eye candy.
Like the graphical storytelling that is comic book and manga art and illustration, these graphics are meant to convey plot, character, and setting. It executes the narrative and depicts action on planes physical and metaphysical. It tells the literal and the poetic, and depicts legend and reality and the natural and the supernatural. Tenjo Tenge's art is a tour de force through a comic book narrative that is a force.
I guess that I am recommending this book, but to get to the pretty art here, you'll have to go back to the beginning or close to that.
POSSIBLE AUDIENCE: Martial arts comics readers looking for sexy, ultra-violent, R-rated, martial arts will like the VIZ Signature title, Tenjo Tenge: Full Contact Edition 2-in-1.
Rating: A- /10
Last Updated: August 31, 2023 - 08:12