Tenjo Tenge - Full Contact Edition: Volume 8 manga review
By Leroy Douresseaux
September 12, 2012 - 16:31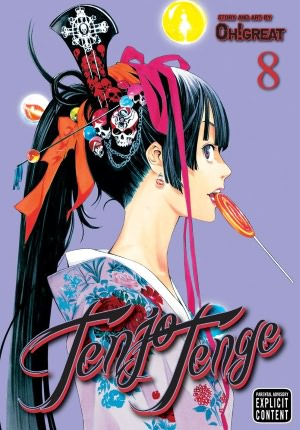 Tenjo Tenge Full Contact Edition Volume 8 cover image is courtesy of barnesandnoble.com.
Rated "M" for "Mature"
Tenjo Tenge is a martial arts and seinen manga (comics for adult men) that debuted in the mid-1990s. Created by Oh!great, the penname of Ito Ōgure (Air Gear), the series is set in and around Todo Academy, a high school dedicated to training students in the art of combat. The series focuses on the members of the Juken Club and their opposition, the Executive Council, which is also the student group that rules Todo Academy.
VIZ Media is currently publishing Tenjo Tenge as Tenjo Tenge: Full Contact Edition 2-in-1, which gives readers two volumes in one single graphic novel. Unlike the earlier English-language publication of the series, the Full Contact Edition retains the violence and nudity depicted in the original Japanese publication. Tenjo Tenge: Full Contact Edition 2-in-1, Vol. 8 collects Vols. 15-16 of the Japanese editions.
Thanks to Mitsuomi, Sohaku has (literally) lost his head, but everything is going according to plan. Now, a war rages across time connecting people from two eras. It's the late 16th century, the end of the Tensho period, and Sohaku schemes to take control of the seemingly impregnable Osaka Castle and its supernatural associations. Aya Natsume and Ichiyo Nagi join the swordsman Yoshikatsu Shinjiro Yagyu, also known as Jiroemon Ono, in an attempt to frustrate Sohaku's plans by also breaking into the castle. They have a new ally, another swordsman, Myoun Kabane.
Back in the present, the Juken Club preps for the 107th Imperial Martial Arts Tournament. They are not the favorites, so can they come together as a team?
THE LOWDOWN: As much as I like the Tenjo Tenge manga, I often find myself struggling to keep up with its shifts in narrative, plot, characters, perspective, etc. I was not prepared for the quirky time travel jaunt this volume throws at readers. The "trip" back in time is a trip (as in trippy), but I liked the vengeance/blood lust dynamic in this back-in-time, samurai drama.
The costumes, weapons, and backdrops are impressive: that's some beautiful art. It is enough to make me wait for the return to the main storyline, which is about to get pretty intense. However, I could do without all the semi-non-consensual sex. It goes beyond mere fanservice and into the realm of uncomfortable and creepy,
POSSIBLE AUDIENCE: Martial arts comics readers looking for sexy, ultra-violent, R-rated, martial arts will like Tenjo Tenge: Full Contact Edition 2-in-1.
Rating: B+ /10
Last Updated: January 24, 2022 - 11:00