Tenjo Tenge: Full Contact Edition Volume 6
By Leroy Douresseaux
April 17, 2012 - 11:55
Rated "M" for "Mature"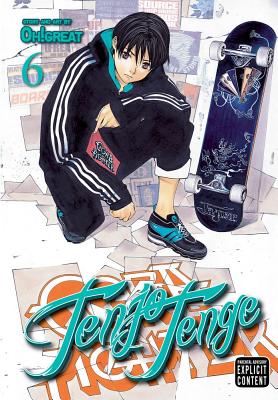 Tenjo Tenge Full Contact Edition Volume 6 cover image
Tenjo Tenge
is a martial arts and seinen manga (comics for adult men) from Oh!great, the penname of
Ito Ōgure
(Air Gear). The series is set at
Todo Academy
, a high school dedicated to training students in the art of combat. The series focuses on the members of the
Juken Club
and their opposition, the
Executive Council
, which is also the student group that rules Todo Academy.
VIZ Media is currently publishing
Tenjo Tenge
as
Tenjo Tenge: Full Contact Edition 2-in-1
, which gives readers two volumes in one single graphic novel. Unlike the earlier English-language publication of the series, the Full Contact Edition retains the violence and nudity depicted in the original Japanese publication.
Tenjo Tenge: Full Contact Edition 2-in-1

, Vol. 6
collects Vols. 11-12 of the Japanese editions.
As Vol. 11 begins, the supernatural smack-down between
Sochiro Nagi
and the monstrous
Mataza Isumuji
, on the holy ground of the Enmi family estate, concludes. Immediately afterwards,
Sohaku
steps in to determine Sochiro's fate. The mysterious group "
F
" (Feathers) makes its next move when leaders
Katsumi Kabuto
and
Tetsuhito Kagiroi
send a powerful young woman,
Madoka Mawari
, to fight
Bob Makihara
.
As Vol. 12 begins, Bob Makihara is hospitalized, so his pal,
Masataka Takayanagi
, takes up the battle against the shockingly powerful Mawari. The stress of this duel may turn Takayanagi to the dark side, but both contestants will soon find themselves fighting side-by-side to save their lives. Enter death personified,
Fu Chi'en
. Can
Bunshichi Tawara
– the Exorcist Tawara – save them?
THE LOWDOWN:
As I've written in earlier reviews, I like
Tenjo Tenge
. I love martial arts, be it movies, animation, or comics – especially if the combatants have supernatural or paranormal powers. Of course, this story is told through art and graphics, and creator Oh!great offers some eye-popping illustrations. In this sixth collection, however, there are so many awe-inspiring double-page spreads and splash pages that I thought this volume was my gift for fight-comics Christmas. As a martial arts story,
Tenjo Tenge
does not skimp on explosive battles full of supernatural whatnot, nor is there a shortage of T&A, innuendo, or even comedy.
POSSIBLE AUDIENCE:
Battle manga readers looking for sexy, ultra-violent, R-rated, martial arts will like
Tenjo Tenge: Full Contact Edition 2-in-1
.
A-
Last Updated: January 24, 2022 - 11:00