Tenjo Tenge: Full Contact Edition Volume 4
By Leroy Douresseaux
December 23, 2011 - 08:17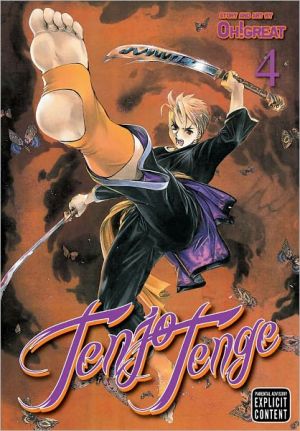 Tenjo Tenge Full Contact Edition Volume 4 cover image is courtesy of barnesandnoble.com.
Rated "M" for "Mature"
Tenjo Tenge (originally Tenjho Tenge) is a seinen manga – comics for adult men – that features profane language, nudity, and sexual situations. A martial arts manga, it is created by Oh!great (the penname of Ito Ōgure), the creator of Air Gear. Tenjo Tenge is set at Todo Academy, a high school dedicated to training students in the art of combat. The series focuses on the members of the Juken Club and their opposition, the Executive Council, which is the ruling student body of Todo Academy.
VIZ Media is currently publishing Tenjo Tenge in its full R-rated glory. Each volume of Tenjo Tenge: Full Contact Edition 2-in-1 contains two of the original Japanese volumes. Tenjo Tenge: Full Contact Edition 2-in-1, Vol. 4 collects Vols. 7-8.
Shin Natsume, inheritor of the Dragon Eyes, and Mitsumomi Takayanagi have their final battle, and Mana Kuzunoha is caught in the middle. It is destiny or is it? And is Mitsumomi destined to be the Supreme Warrior? Then, the story jumps ahead two years where we find Sochiro Nagi beginning his training. Boy, does he hate his teachers. Plus, sisters Maya and Aya Natsume duel.
THE LOWDOWN: The more I read Tenjo Tenge, the more I appreciate what a grand melodrama it is. It is a martial arts drama full of fury and creator Oh!great emphasizes which scenes are supposed to communicate the most furious drama by using plenty of splash pages, half-splashes, and a steady rhythm of big panels. There is also an excellent use of lighting to create drama and tension (page 57). Yes, there is still plenty of visual innuendo and tits-and-ass, but Tenjo Tenge is a battle manga with a heightened sense of melodrama and conflict. It's a unique and enjoyable reading experience.
POSSIBLE AUDIENCE: Readers looking for R-rated martial arts will get that in Tenjo Tenge.
B+
Last Updated: January 24, 2022 - 11:00