Strawberry 100%: Volume 13
By Leroy Douresseaux
July 25, 2010 - 14:18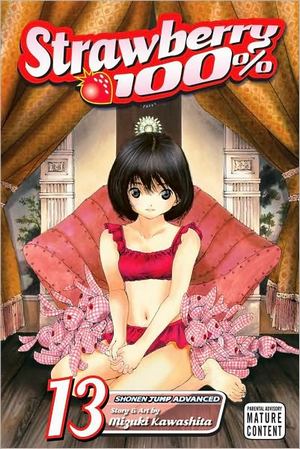 Strawberry 100% Volume 13 cover image is courtesy of barnesandnoble.com.
Rated "T+" for "Older Teen"
One day, Junpei Manaka snuck up to the roof of his school to watch the sunset. There, he startled a mysterious beauty who ran away, but not before he caught a glimpse of her strawberry-patterned panties. Junpei embarks on an odyssey to find the beautiful owner of those delicate undies. Now, a high school student and aspiring filmmaker, Junpei is in love with the mystery girl, Aya Tojo, but he also has a pack of girl troubles.
In Strawberry 100%, Vol. 13 (entitled Give and Take), Satsuki Kitaoji decides that Junpei will likely never agree to be her boyfriend, so she decides they should be friends. When rumors spread that she is marrying her boss at the bakery, Tsuruya, all hell breaks loose. Meanwhile, Amachi, Junpei's rival for Aya's affection, ditches his other female admirers to focus on Aya.
THE LOWDOWN: This volume of Strawberry 100% is exactly like every other volume – a high school romantic comedy with bawdy humor in the form of fanservice gags. Why hasn't Junpei made up his mind after so many chapters? The answer is because all the girls are as interesting as they are pretty, and that is good for readers. The coy females, panties shots, and jiggly parts can't distract from the truth that this is a shonen manga (comics for teen boys) that will interest any reader because of the good character drama.
POSSIBLE AUDIENCE: Readers who want good characters will find them in Strawberry 100%.
B+
Last Updated: August 31, 2023 - 08:12