Strawberry 100%: Volume 8
By Leroy Douresseaux
Apr 3, 2009 - 12:51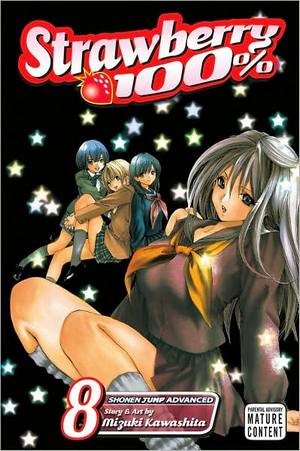 Strawberry 100% Volume 8 cover is courtesy of barnesandnoble.com.
Rated "T+" for "Older Teen"
Junpei Manaka spotted a beautiful girl lying on the roof of his school, and after he caught a glimpse of her strawberry-patterned panties, he knew that he had to learn her identity. Now, a high school student and aspiring filmmaker, Junpei's search for the mystery girl led him to Aya Tojo and a pack of girl troubles.
As Strawberry 100%, Vol. 8 (entitled Legend of the Lovers) opens, it's Junpei's birthday, and all his favorite girls are offering him birthday gifts, but he's not sure that he should accept them. Why? He has the kind of troubles many high school boys wish they had – too many girls who want to date him. He's in love with Aya, but aggressive Satsuki Kitaoji is also after him. Now, Junpei's working in a movie theatre right next to the pastry shop where his ex-girlfriend, Tsukasa Nishino, works. A field trip with his fellow school film club members only complicates matters when he gets lost in the woods – alone with Aya.
THE LOWDOWN: While the raunchy Strawberry 100% offers plenty of fanservice and T&A, it is also a heartfelt romantic comedy about a bumbling boy in the full of his awkward teenage years. Creator Mizuki Kawashita offers a depiction of high school life as both fun-filled and trouble-filled, and it is as genuine as it is wacky. For all innuendo, this is a character driven series, one driven by excellent characters.
POSSIBLE AUDIENCE: While it is sold as a "Shonen Jump Advanced" title for older male teen readers, Strawberry 100% is a high school comedy/drama for everyone who loves the drama of high school love.
A-
Last Updated: Jun 26, 2018 - 9:28