Stepping on Roses: Volume 9 manga review
By Leroy Douresseaux
April 23, 2013 - 14:18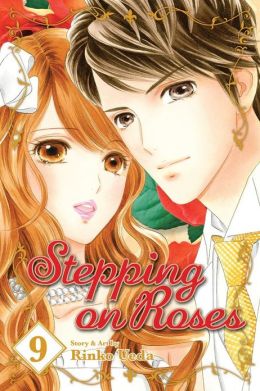 Stepping on Roses Volume 9 cover image is courtesy of barnesandnoble.com.
Rated "T+" for "Older Teen"
Stepping on Roses is set in the Meiji Era (1868 to 1912). This is a time of transformation for Japan, and also for Sumi Kitamura, a young woman living a life of poverty. She takes care of orphans brought home by her brother, Eisuke. Sumi's financial problems are dire because she also has to pay off Eisuke's debts. Soichiro Ashida, an heir to the wealthy conglomerate, Ashida Products, makes Sumi a shocking offer. If she agrees to marry him, Soichiro will pay off her debts. But the union turns out not to be the sham marriage that it could have been.
When both Soichiro and Ashida Products fell into financial problems, Nozomu Ijuin, a rival for Sumi's affections, stepped in. Nozomu's father heads Ijuin Bank, so the younger Ijuin offered to help Ashida Products, if Sumi promised to become his bride. Nozomu is, however, already married to Miu.
As Stepping on Roses, Vol. 9 (Chapters 51 – Final Chapter) opens, Sumi tries to get Ashida Products back for Soichiro. Meanwhile, an English businessman, who visiting Japan, takes a liking to Soichiro. A weekend business trip to Hakone, however, is where things take a drastic turn, and Nozomu's father has some most shocking news.
THE LOWDOWN: This is the final volume of the Stepping on Roses manga. A VIZ Media press representative sent me a few of the volumes that comprise the second half of the series, including Volume 9. Thus, I'm only familiar with Stepping on Roses towards the end of the narrative.
I am a big fan of Tail of the Moon, a romantic shojo ninja manga, which is another series from Rinko Ueda, the creator of Stepping on Roses. The latter is a melodrama and soap opera-historical fiction like the former, which had moments of sudden and even shocking violence. Vol. 9 is Stepping on Roses' opportunity to throw in some implied, but mostly threatened violence of its own.
Honestly, I have not read a shojo manga like this volume in quite a while. There are so many shocking revelations – one so huge that it could come across as over-the-top or even comical. Still, I read through Vol. 9 like I was cramming for a final exam that was only hours away. I wish there were more of this. Stepping on Roses is not exemplary material, but the story offers the kind of backstabbing, double-dealing, two-faced soap opera that is always welcomed.
POSSIBLE AUDIENCE: Readers who want shojo manga melodrama will want the Shojo Beat title, Stepping on Roses.
Rating: A- /10
Last Updated: August 31, 2023 - 08:12