Stepping on Roses: Volume 7
By Leroy Douresseaux
March 7, 2012 - 08:09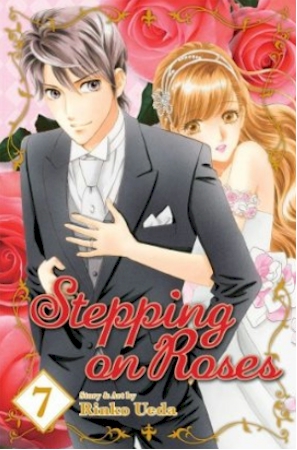 Stepping on Roses Volume 7 cover image is courtesy of Castle Anime Books.
Rated "T+" for "Older Teen"
It is the Meiji Era, a time of transformation for Japan, and also for Sumi Kitamura, a young woman living a life of poverty. Taking care of orphans brought home by her brother, Eisuke, Sumi's financial problems are dire because she has to pay off Eisuke's debts. Soichiro Ashida, an heir to the wealthy conglomerate, Ashida Products, makes Sumi a shocking offer. If she agrees to marry him, Soichiro will pay off her debts. But Sumi has given up everything for a sham marriage.
As Stepping on Roses, Vol. 7 opens, the revelation that Sumi is Eisuke's sister threatens Soichiro's position as President of Ashida Products. Sumi feels terrible about the trouble she has caused, so she leaves Soichiro. Meanwhile, Nozomu Ijuin makes a power play at Ashida Products and also makes a move to steal Sumi from Soichiro.
THE LOWDOWN: As I've said before this: I am a big fan of Tail of the Moon, a romantic shojo ninja manga from Stepping on Roses creator, Rinko Ueda. Tail of the Moon was full of action, adventure, betrayal, danger, intrigue, and murder, but was mostly a sweet love story. The Stepping on Roses manga might look like a sweet love story, especially if one judges by the covers. It is not melodious, at least not yet. This is some really dark stuff, with the kind of backstabbing, double-dealing, two-faced soap opera that a gossip maven like me adores.
My favorite character right now is Nozomu Ijuin, who is like Othello's Iago but drawn like Sting (from The Police) as he looked in the 1984 film, Dune. The high-strung, impulsive Soichiro Ashida is a hoot, and Sumi plays the sad, selfless goodie-good as if she were campaigning for an Oscar. This is excellent melodrama and the drama certainly isn't mellow.
POSSIBLE AUDIENCE: Readers who want shojo manga melodrama will want Stepping on Roses.
A-
Last Updated: August 31, 2023 - 08:12