Stepping on Roses: Volume 6
By Leroy Douresseaux
July 3, 2011 - 14:51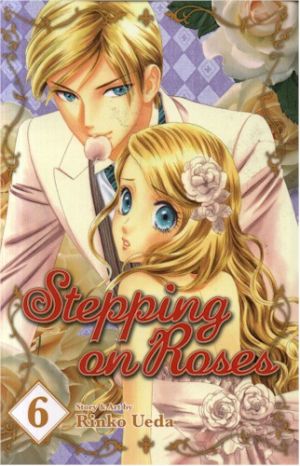 Stepping on Roses Volume 1 cover image is courtesy of Anime Castle Books.
Rated "T+" for "Older Teen"
It is Japan's Meiji Era. Sumi Kitamura was living a life of poverty and taking care of orphans brought home by her brother, Eisuke. Sumi's financial problems became dire when she had to pay off Eisuke's debts. Soichiro Ashida, an heir to a wealthy conglomerate, makes Sumi a shocking offer. If she agrees to marry him, Soichiro will pay off her debts. But Sumi has given up everything for a sham marriage.
As Stepping on Roses, Vol. 6 opens, Soichiro discovers that his rival, Nozomu Ijuin, has painted a beautiful portrait of Sumi, who sat for the portrait. How will he deal with the fact that Nozomu is still in love with his wife? Nozomu, an employ at Ashida Products, even conspires against Soichiro, who is president of the company. Soichiro's life is unraveling before his eyes, while Sumi plots to make their marriage a real one.
THE LOWDOWN: I was (and still am) a big fan of Tail of the Moon, a shojo ninja manga from Stepping on Roses creator, Rinko Ueda. When I first started reading this sixth volume of Stepping on Roses, I wasn't feeling the story. It seemed like just another shojo title about dysfunctional love that will likely end with all's well that ends well.
That was before I realized that all the characters are nuts, and not just the he-hears-voices kind of crazy. These people are wide-eyed, bitch-I'll-cut-you crazy. That makes for a salty soap opera full of selfish love and barely concealed hate. There is more than conflict and drama here; there's also danger, astoundingly drawn in Ueda's pretty style. I love my shojo, but sometimes, I like that the catfights have more knifing than scratching.
POSSIBLE AUDIENCE: Readers who want shojo manga with bite will want to try Stepping on Roses.
A-
Last Updated: August 31, 2023 - 08:12