St. Dragon Girl: Volume 1
By Leroy Douresseaux
Nov 29, 2008 - 12:08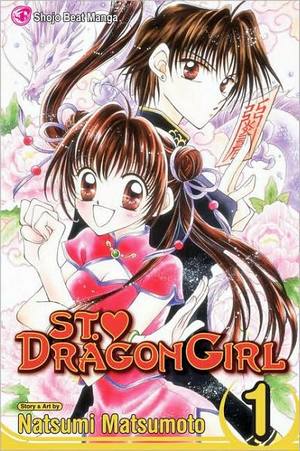 St Dragon Girl 1 cover courtesy of barnesandnoble.com.
Rated "T" for "Teen"
16-year-old Momoka Sendou might be a pretty girl, but she's also a top martial artist. Her childhood friend Ryuga Kou is a Chinese magic master, and he specializes in banishing demons. In order to increase his power, Ryuga summons the spirit of a dragon to possess him, but the spirit enters Momoka instead. Now, Momoka, nicknamed "Dragon Girl," and Ryuga band together to fight mischievous and devious demons.
In St. Dragon Girl, Vol. 1, Momoka and Ryuga band together to stop the Serpent King, who lives in a local lake, from taking Shunran, Momoka's best friend and Ryuga's cousin, as his bride. Next up is the curious case of the school art teacher with a (magic) eye on all the girls, especially Momoka. A conniving pair of cat demons would also like to have a piece of Momoka, but she's more concerned with discovering if Ryuga really loves her!
THE LOWDOWN: Magic, martial arts, and love: these are the ingredients manga-ka Natsumi Matsumoto transforms into the flavorful shoujo brew, St. Dragon Girl (stylized as St. ♥ Dragon Girl); it's a fizzy drink that will tickle your nose. St. Dragon Girl has all the makings of the usual romance shoujo manga (comics for teen girls) – girls with angelic faces and pretty boys, but the infusion of magic as a major story element energizes what could have been standard fare. The supernatural plots and plot devices are imaginative without being weird and make St. Dragon Girl worth regular viewing.
POSSIBLE AUDIENCE: Readers in their early teens will likely enjoy St. Dragon Girl, while older readers may find some fun in the magical scenarios.
B
Last Updated: Jun 26, 2018 - 9:28