Star Wars Omnibus: A Long Time Ago... Volume 1
By Leroy Douresseaux
September 13, 2010 - 09:23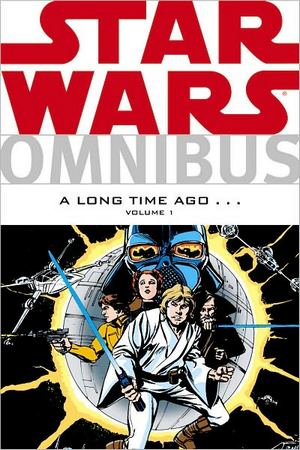 Star Wars Omnibus: A Long Time Ago Volume 1 cover image is courtesy of barnesandnoble.com.
From July 1977 to September 1986, Marvel Comics Group published Star Wars, a comic book series based upon and set in the universe of the film Star Wars and its sequels, The Empire Strikes Back (1980) and Return of the Jedi (1983). The series, which ran for 107 issues, began in July 1977 with a six-issue adaptation of the original Star Wars film. In later years, the Star Wars comic book presented a six-issue adaptation of The Empire Strikes Back. Return of the Jedi was published as a separate four-issue miniseries.
Dark Horse has had the license to produce Star Wars comic books for 20 years. They began reprinting those Marvel Star Wars comic books a decade ago in the seven-volume, trade paperback series entitled Star Wars: A Long Time Ago. Now, those TPBs get the omnibus treatment, starting with Star Wars Omnibus: A Long Time Ago…. Volume One.
Reading the early Star Wars comic books, people may be surprised at how odd they are, but also how surprisingly imaginative they are. These stories were created, particularly the ones collected in this first omnibus, when little was known about the world of Star Wars. There wasn't even such a thing as a Star Wars "Expanded Universe."
However, these stories, which tend towards space fantasy and old-fashioned space opera, are a joy to read. The adaptation of Star Wars which kicked off Marvel's series and kicks off this volume was written by Roy Thomas and drawn by Howard Chaykin. It is actually quite good and captured both the spirit and narrative of the original film. Chaykin's storytelling was good, and while his page design and composition were also nice, his drawing wasn't as strong as it would become in the 1980s.
Marvel's Star Wars comic book really came into its own with the 11th issue when Archie Goodwin became the writer and Carmine Infantino became the penciller. Goodwin, mostly remembered as an editor, was a vastly underrated writer. Here, he writes imaginative, edge-of-your-seat thrillers that come across as real Star Wars. Infantino's slick drawing style (which does justice to the Millennium Falcon) and his slicker visual storytelling captured Goodwin's stories probably as well as anyone could have.
At a 6 x 9 trim size, Star Wars Omnibus: A Long Time Ago…. Volume One has smaller dimensions than a standard comic book, but this is a good size for a trade paperback with over 400 pages. This omnibus is easy to hold, which is necessary because it is a bit heavy. Its tight binding makes it OK for readers to open the book wide on a flat surface without worrying that the book might come apart.
Sturdy with high quality reproduction of the original comics, Star Wars Omnibus: A Long Time Ago…. may be the best way of reading Marvel's charming Star Wars comic books. At $25, it is certainly the cheapest and most convenient way of having a permanent way to look back at these way-out-there, but lovely Star Wars stories.
A-
For more from this Star Warrior, please, visit www.negromancer.com.
Last Updated: August 31, 2023 - 08:12