Star Trek: the manga - Kakan ni Shinkou
By Leroy Douresseaux
September 24, 2007 - 09:15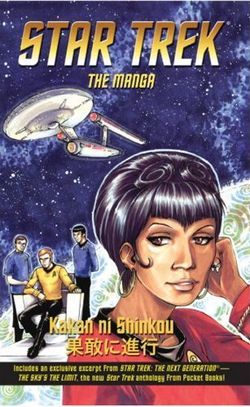 Striking cover image by star-to-be Bettina Kurkoski.
Star Trek: the manga – Kakan ni Shinkou
is TOKYOPOP's second collection of global manga set in the universe of the original "Star Trek" television series (knows as Star Trek: The Original Series or ST: TOS). Fives stories make up the new volume.
In "Cura Te Ipsum," the U.S.S. Enterprise is crippled, far away from the nearest Federation Starbase, and badly in need of dilithium crystals. They find dilithium on a planet in the middle of a brutal civil war/blood feud. Captain James T. Kirk sees an opportunity to guide the planet's warring factions towards peace, but will he be violating the Federation's Prime Directive not to interfere in the affairs of non-Federation planets?
Kirk finds himself on trial for crimes he might have committed and may likely commit in the future, at least according to the denizens of Planet Kos in "The Trial." Next, is "Communications Breakdown," a tale set just after the events of ST: TOS Season Two episode, "The Changeling." Enterprise communications chief, Lt. Uhuru, is on the mend, but Capt. Kirk calls her expertise into question when she expresses strong doubt that a recently received distress signal is really a distress signal.
"Scaean Gate," is a riff on the legend of the city of Troy and the Trojan War, the Enterprise transports a Queen to her new throne – a royal move meant to settle a long war between two planets, but is the crew transporting a Trojan horse? "Forging Alliances," which closes the book, is set on Science Officer Mr. Spock's home world of Vulcan during a special ceremony where Dr. McCoy finds himself fighting to discover why the Vulcans have reverted to their violent ways of the past.
[This volume includes an excerpt ("Suicide Note" by Geoff Trowbridge) from the upcoming Star Trek anthology, Star Trek: The Next Generation – The Sky's the Limit from Pocket Books]
THE LOWDOWN: Sometimes, it's hard to tell what will satisfy hardcore Trek fans. Any of these Trekkies that are purists may not find joy in this manga riff on classic Trek, but it nevertheless captures the style, mood, and flavor of the original "Star Trek" TV series. Star Trek: the manga – Kakan ni Shinkou rings true enough to be more than fan fiction, and for all practical purposes contains some of the best Star Trek comics ever done. Veteran Trek creator Diane Duane, Trek actor Wil Wheaton, rising star of manga Bettina Kurkoski deliver star performances with their contributions to this volume.
POSSIBLE AUDIENCE: Anyone ready to enjoy some really good Star Trek comics will find just about every entry in this volume a novel turn on the original series. It certainly left me pining for an encore.
A-
Get your Trek on at the Amazon aStore.
Last Updated: January 24, 2022 - 11:00