Star Trek: Assignment: Earth #1
By Leroy Douresseaux
August 7, 2008 - 06:31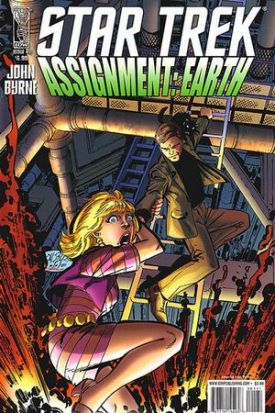 Star Trek: Assignment: Earth #1 cover by artist John Byrne and colorist Tom Smith.
The amount and kind of media and merchandise that have spun off from the original "Star Trek" series of the late 1960's is staggering. Various Star Trek comic book series have also taken their place among the offshoots, and IDW Publishing is the latest in a long line of companies (Gold Key, DC Comics, Marvel Comics) taking a shot at making a go of Star Trek comics.
The 1968 Star Trek television episode "Assignment: Earth" (original air date: March 29, 1968) was the second season finale for the original Star Trek series. Star Trek creator Gene Roddenberry intended this episode to be the pilot for a spin-off series that never came to pass.
Writer/artist John Byrne, a comics legend who is in his 40th decade of producing comic books, gives Assignment: Earth the series it never had 40 years after it would have debuted on TV. A six-issue miniseries, Star Trek: Assignment: Earth recounts the adventures of interstellar agent Gary Seven (played by Robert Lansing in the Assignment: Earth episode), a kind of futuristic James Bond, and his Earth-born assistant, Roberta Lincoln (played by Teri Garr), and Isis, Gary's cat that can take on human form.
Gary and Roberta covertly confront threats to the past so that they can save Star Trek's future. Star Trek: Assignment Earth #1 ("Brighter than a Thousand Suns") finds Gary, Roberta, and Isis stopping a conspiracy to sabotage an enhanced fusion bomb test in New Mexico. It is an act that would devastate the United States, or, for all practical purposes, destroy the nation.
"Brighter Than a Thousands Suns" is a mildly entertaining story, with good structure and even pacing. I'm interested if and how it fits in with the stories that follow. [Assignment: Earth begins in 1968, and each following issue jumps forward one year in time.] Alone, this story isn't really that much. The art is okay, with the storytelling being much better than the technique. Byrne allows colorist Tom Smith to create too much of the art's value and texture with his colors, which ain't all that. Judging this first issue alone, I can't see much of a reason for Star Trek: Assignment: Earth to exist other than as fan fiction masquerading as licensing. And $3.99 is a bit much to pay for unspectacular fan fiction.
C+
Last Updated: September 6, 2021 - 08:15