StarCraft: Ghost Academy Volume 1
By Leroy Douresseaux
January 23, 2010 - 19:31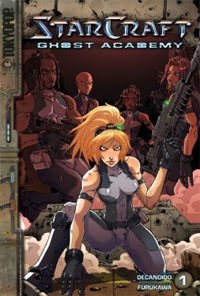 StarCraft: Ghost Academy Volume 1 cover image
Sci-Fi/Action; Rated "OT" for "Teen-Age 16+"
StarCraft is a real-time strategy video game from Blizzard Entertainment (the producers of World of WarCraft). Set in a distant part of the Milky Way galaxy during the 26th century, StarCraft is a military science fiction scenario that revolves around a conflict among three species for dominance: Terrans, exiled humans from Earth; the Zerg, an insectoid race; and the Protoss, a humanoid species.
TOKYOPOP is producing graphic novels/manga based upon StarCraft. StarCraft: Ghost Academy is a manga series written by novelist Keith R.A. DeCandido. It depicts events in the life of the character at the center of DeCandido's novel, StarCraft: Ghost: Nova. Ghost Academy follows Nova Terra and several characters during their training to become psychic assassins called "ghosts."
StarCraft: Ghost Academy, Vol. 1 follows the trials, tribulations, and education of Team Blue, which includes team leader, Gabriel Tosh; the speaks-her-mind cadet, Kath Toom; the scatterbrain geek, Lio Travski, and Nova, who posses powerful telepathic and telekinetic abilities. Team Blue is actually failing as a team. Nova doesn't care about the team, only being concerned with her own needs. The Academy prefers that teams have five members, so Team Blue finally gets their fifth member in Aal Cistler, a playboy with a well-connected and powerful father. With two loners – Nova and Aal, Team Blue will have to come together or fail, and failure is not an option.
[This book also includes a preview of World of WarCraft: Death Knight.]
THE LOWDOWN: Simply put, this first volume of StarCraft: Ghost Academy is a darn good read, and the reason why is simply because of the excellent character writing. The characters themselves are fairly familiar; readers will recognize them from any kind of story that revolves around groups of disparate people coming together, playing on the themes of team building and teamwork. However, as written by DeCandido, the characters come alive with such forceful personalities. I think "grab you" is the description I want to use for these denizens of Ghost Academy. Even the jerks and bad guy type characters engage.
The art by Fernando Heinz Furukawa (pencils), Walter Gustavo Gomez (inks), and Gonzalo Duarte (tones) is quite good in terms of composition, but the storytelling is even better. The good work DeCandido does with the characters, Furukawa matches by visualizing the setting using convincing drawings, without losing the characters in the trappings of military science fiction. StarCraft: Ghost Academy is that infrequently seen beast – the comic book media tie-in that can stand alone as a good comic book.
POSSIBLE AUDIENCE: Not only will StarCraft fans want StarCraft: Ghost Academy, but also fans of military science fiction.
A
Last Updated: September 6, 2021 - 08:15